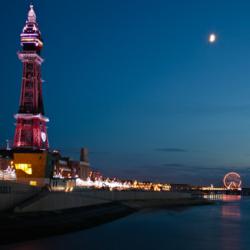 The record number of company formations in Blackpool during 2012 shows that entrepreneurial spirit is alive and well in the area
Blackpool, Lancashire (PRWEB UK) 4 March 2013
The latest Duport Business Confidence Report for Blackpool shows a record number of companies were registered there during 2012.
Between January and December, there were 1734 new companies formed - more than any other year in the history of the town. In addition, net company growth reached a record level, with the company register growing by 980. The UK company share of Blackpool also rose slightly during the last year.
Blackpool's economy has been based around tourism since the 1840s, when a new railway line made it easily accessible to visitors. By the late 20th century, its popularity had declined due to changing tastes and increased travel aboard. However, it is now adapting to the changing visitor market to appeal day trippers rather than long-stay visitors. The local council is also working hard to attract outside investors by promoting the benefits of the area, which include a large workforce, good transport links and many sites that are ripe for development.
Managing Director of Duport.co.uk, Peter Valaitis commented:
"The record number of company formations in Blackpool during 2012 shows that entrepreneurial spirit is alive and well in the area.
"Although these are undoubtedly tough economic times, there are plenty of opportunities out there for business start-ups. Blackpool's new businesses will benefit from the tourist trade and they will, in turn, strengthen the tourist offering."
The Duport Business Confidence Report for Blackpool contains a wealth of data that can be used to analyse the local business landscape. More information and statistics can be found at http://www.duport.co.uk/blackpool.
Duport Business Confidence Reports are generated and released by Duport Associates Ltd. The data contained in these reports is assimilated and analysed by Duport using public record data from sources including Companies House, Office for National Statistics and Ordnance Survey. Duport Associates Ltd is a leading UK company formation agent, established in 1997 and registering around 10,000 new companies each year through its Companies House approved software.