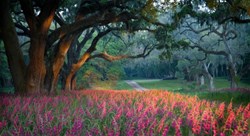 Best South Carolina Community of the Year - Spring Island
Hilton Head Island, South Carolina (PRWEB) March 02, 2013
Real Estate Scorecard, an industry leader of online real estate reviews, announces the 2013 Bliss Award Winner for South Carolina Community of the Year.
Spring Island is a fascinating 3,000 acre private island, a place to escape it all and live in a timeless setting. Located in the Lowcountry, Spring Island carefully preserved its southern roots dating back to the 1800's, once a working plantation. Tabby Ruins on the island, is where Real Estate Scorecard found the unforgettable 10 foot tall statue (St. Francis of Assisi) canopied by massive trees shading this outdoor sanctuary from the summer sun. Spring Island is located about half way between Beaufort and Hilton Head Island, on the coast of South Carolina.
Spring Island is both a luxury golf and South Carolina equestrian community. This low density neighborhood is planned to have only 410 homes at the project's completion. As Real Estate Scorecard drove through this South Carolina coastal community, homes bordering the Colleton River were hidden from the main road, gorgeous homes positioned at the end of long winding driveways. The privacy and seclusion is perfect and is what affluent families demand, to escape a fast paced life. The allure of what life would be like living on Spring Island is special, an uncommon way to live in spectacular nature preserve.
Spring Island's 18 hole championship golf course designed by Palmer Group recently underwent complete renovation and re-opened in November 2012. Community amenities include two riverfront clubhouses that reflect American Country decor, a modern state of the art fitness center with indoor and outdoor swimming pools, and a full service Equestrian Center. There are more than 35 miles of sand horse trails to explore at Spring Island. This South Carolina coastal community offers larger home parcels while still being in close proximity to the Hilton Head Island. Home prices average over $1 million. If this fits within your budget, you must see Spring Island in before you buy a home in the Lowcountry. Ask Real Estate Scorecard for details about how to tour this private island.
To see all of Real Estate Scorecard's 2013 Bliss Award winners, visit:
http://realestatescorecard.com/breaking-community-news/best-community-of-the-year-2013-bliss-awards
About Real Estate Scorecard
Real Estate Scorecard writes unbiased real estate reviews providing in depth information about the best master planned communities in Florida, Georgia, North Carolina, South Carolina and Tennessee, all in an effort to help people discover where to retire. Website address: http://realestatescorecard.com