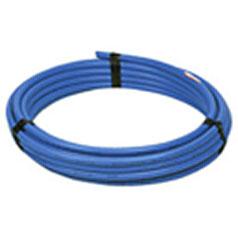 Pipestock.com's MDPE Pipe Lengths and Coils can now be bought in new larger diameter sizes classified as 'large bore'
Hampshire (PRWEB UK) 5 March 2013
Pipestock are always pleased when they can announce the expansion of a range as it brings them one step closer to becoming the one-stop-shop for all industrial pipe needs. Today the company are announcing their most recent range expansion with MDPE Pipe Coils and Lengths now available in diameters over 63mm. The MDPE Pipe, classified large bore, now goes right up to 180mm in both coils and lengths.
With a growing demand for MDPE Pipe Systems, Pipestock.com have expanded their range, which is one of the most comprehensive online, now supplying large bore classified pipe lengths and coils.
Pipestock.com have already been supplying MDPE Pipe Lengths and Coils in small bore sizes to businesses and individuals, but this new product has allowed the diameters available of MDPE Pipe to be far greater. Pipestock.com's MDPE Pipe Lengths and Coils can now be bought in new larger diameter sizes including: 63mm, 90mm, 110mm, 125mm, 160mm and 180mm! These larger diameters are ideal for contractors looking to install an MDPE Pipe System classified as large bore. With the size of these coils in mind, Pipestock have a dedicated delivery service to ensure that they can be transported safely to the customer location. More about this dedicated transport can be read on their MDPE Pipe page: http://www.pipestock.com/mdpe/mdpe-pipe-blue/.
Our MDPE Pipe System is WRAS Approved, approved by the Secretary of State, holds a certified BSI Kitemark and is certified by the National Grid. The system is designed, manufactured and supplied under a BS EN ISO 9001:2000 accredited Quality Management System and is manufactured under the environmental policy accredited to BS EN ISO 14001.
Medium-Density Polyethylene, defined by its density as a thermoplastic, is both a durable and flexible material. MDPE is a non-corrodible material with good shock and drop resistance to ensure a tough pipe system up to the rigours of industrial application. Another important aspect of the MDPE material is that it is not notch-sensitive. This is especially important for MDPE Blue Pipe which is used for the underground transportation of potable water and other liquids. Underground pipework is subjected to rocks and stones in the soil which may put pressure on minute areas of the pipe. It is important that the pipe wall is not affected by this to ensure no damage or leaks. The pipe is also manufactured to withstand stress cracking caused by surge and fatigue conditions.
MDPE also has a good resistance to chemicals. The MDPE Pipe System has been manufactured so that it does not rust, pit, rot, corrode or lose wall thickness through chemical or electrical reactions with the surrounding soil. The pipework does not support the growth of algae, bacteria or fungi either which is an ideal characteristic as it promotes cleanness in the liquids it is carrying. For a fuller explanation of the chemicals and liquids which MDPE is and is not resistant to, you can contact Pipestock.com direct on: 0845 634 1053.
These careful design features make MDPE Pipe Systems a welcome alternative to traditional metal pipework. They are light-weight, easy to install and well worth investing in for their long service life. The MDPE Pipe System range available at Pipestock's online ecommerce site is vast and one of the biggest online. MDPE Pipe available includes: MDPE Pipe Lengths Blue & Black and MDPE Pipe Coils Blue & Black both available in large bore sizes. The MDPE Fittings available include: Compression, PP Threaded Fittings, MDPE Push Fit Fittings and MDPE Electrofusion Fittings. Other types of MDPE Pipe Fittings carried include: Valves, Manifolds, Accessories, Tools and an entire range of Protecta-Line Pipe System products.
Pipestock are pleased to be stocking an expanded product range and are sure that customers will find all the MDPE products they need on their website: http://www.pipestock.com.
About Pipestock:
Pipestock is one of the UK's premier Industrial Pipework Suppliers supplying specialist industrial pipe systems for the conveyance of compressed air, clean water, dirty water, gas and chemical solutions. Their customers range from sole trader plumbing engineers to blue chip multi-nationals.
Supplying pipe systems such as ABS, MDPE, PVC, Corzan, PPh and TracPipe, Pipestock have most industrial piping applications covered. Customers can order through Pipestock's comprehensive ecommerce website or via phone, fax or email. The Pipestock service provides overnight delivery to around 90% of the United Kingdom and now also delivers to Europe.
For further information contact Pipestock on 0845 634 1053 or via: http://www.pipestock.com