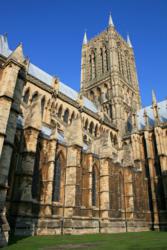 A stable tourist trade, growing IT sector and a diverse business base make it the ideal place to set up a new company
Lincoln, Lincolnshire (PRWEB UK) 5 March 2013
According to new research by company formation specialists, Duport.co.uk, 2012 saw Lincoln break a number of economic records.
There were more company registrations than any other year on record for the city during 2012. Net company growth also reached an all-time high, with the company register growing by an impressive 1100. In addition, many individual months saw record levels of growth, with October, November and December all breaking records for company formation.
Lincoln also broke its own record for UK company share during 2012. This figure has been rising steadily since 2008, suggesting the area is becoming increasingly important to the national economy.
The diverse business base of Lincoln could be key to its success. Although traditional industrial work has decreased, there is a growing IT economy, and a number of e-commerce mail order companies have set up in or around the city. As a result, the area has become a distribution hub, which has led to many new logistics companies setting up. The Duport report shows that the top four words used in new business names last year were Transport, Logistics, Driving and Haulage.
Managing Director of Duport.co.uk, Peter Valaitis said:
"Lincoln has a lot going for it, so it's hardly surprising we are seeing so many economic records set at the moment. A stable tourist trade, growing IT sector and a diverse business base make it the ideal place to set up a new company."
The Duport Business Confidence Report for Lincoln contains a wealth of data that can be used to gain a fascinating insight into the local economy. More information and statistics can be found at http://www.duport.co.uk/lincoln.
Duport Business Confidence Reports are generated and released by Duport Associates Ltd. The data contained in these reports is assimilated and analysed by Duport using public record data from sources including Companies House, Office for National Statistics and Ordnance Survey. Duport Associates Ltd is a leading UK company formation agent, established in 1997 and registering around 10,000 new companies each year through its Companies House approved software.