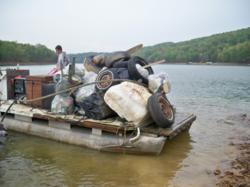 Neva Kitts, AmeriCorp Volunteer "Last year it was gratifying to have so many volunteers and we hope to see even more this year"
Clinton, Tennessee (PRWEB) March 01, 2013
Volunteers from Anderson, Campbell, Claiborne, Grainger and Union Counties are needed for a Norris Lake Clean Up on Saturday, March 23, 2013 from 9 a.m. to 1 p.m. During past cleanups volunteers have collected and properly disposed of typical house hold trash, tires, couches, televisions, kitchen appliances and construction materials including siding and shingles. All of these items would have been in Norris Lake if not for these volunteers.
This year, there will be several "Launch Sites" located in each of the five counties which can be found by visiting http://www.lakenorris.org/lakecleanup. There will be a limited supply of gloves available and wear the appropriate foot wear. Garbage bags will be provided.
Organizers are also encouraging individual boatowners to come out and help because the largest amount of garbage can be found on the islands. All sites have access for boats to launch.
Interested individuals can nominate a site on Norris Lake where there is a lot of trash to be cleaned up. Visit the website at http://www.lakenorris.org/lakecleanup to nominate.
Norris Lake has approximately 800 miles of shoreline so many volunteers are needed. Service groups, social clubs, church groups or associations,are encouraged to participate as group.
A second clean-up will be scheduled on Public Lands Day on September 28, 2013.
The information for volunteers can be found at http://www.lakenorris.org/lakecleanup or contact toll free to 800-524-3602.