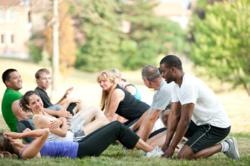 Our personal trainer will assess current fitness levels and produce a personalised exercise plan for cardio vascular health and wellbeing.
Northamptonshire, London (PRWEB UK) 11 March 2013
The NHS say that eating a healthy diet and regular exercise can help to lower the level of cholesterol in your blood.
With this in mind Homefield Grange Detox Retreat Wellness and Weight Loss Spa have put together some Day Spa Packages that focus on the health and long term well being of it's guests rather than simply pampering them for a day.
Homefield Grange say "Our Digestive Solution package aims to offer personalised diet and lifestyle advice to help clients banish these common ailments for good. Our Intolerance Test will pin point exactly the foods which do not suit you, our Live Blood Analysis will help identify the systems in the body that need support and our Colonic Hydrotherapy treatment will give the bowel a gentle cleanse and a fresh start."
Company information
Homefield Grange is a dedicated, established and permanent detox retreat open 51 weeks of the year, assisting clients making positive changes towards their health and well-being. This caring team of qualified practitioners will provide all the help you would expect from a professional organisation.
For more information about Homefield Grange you can visit http://www.homefieldgrange.co.uk or call 01536 712219 or you can email enquiries(at)homefieldgrange(dot)co(dot)uk