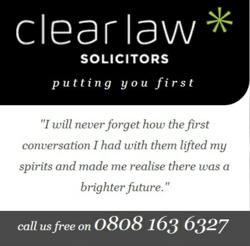 We thought that the value of the personal injury may persuade the defendant to enter into settlement negotiations as it wasn't economical for either party to take the claim to trial
City of London; Manchester; Birmingham (PRWEB UK) 14 March 2013
Specialist "Accident at Work" injury solicitors are often accused of profiteering but this case involving a major UK DIY retail chain showed that this is not always the case and sometimes it is the legal costs determined by judges that are hugely disproportionate to the compensation awarded to the claimant.
This was the case for specialist injury solicitors, Clear Law Solicitors in Manchester, who were awarded costs of £37,204 against this compensation claim of £1,696. See (Case number E9006708 / Court of Record: Chesterfield County Court). Andrew Kwan a partner at Clear Law Solicitors said "The profit on the case was approximately £2,000 and all other costs were items incurred because the defendant, a major UK DIY retail chain, fought the case for nearly 3 years."
Stephanie Tittershill was the Clear Law solicitor who represented the claimant. She commented, "We thought that the value of the personal injury may persuade the defendant to enter into settlement negotiations as it wasn't economical for either party to take the claim to trial. We made what we believed to be a fair settlement offer of £1,100.The retail chain made an offer to 'drop hands' which would mean that either party would be responsible for both costs but as the claim had been on-going for nearly 3 years, but this was rejected."
Stephanie Tittershill also said "To the outside world, the £37,204.37 legal costs must have looked like Clear Law won gold in this case but in actual fact; a profit of £2,000 for a case that took 3 years was a very small profit indeed. The real winner here was the claimant who was determined to win her case and ensure that other staff were not injured in the future."
Contact Clear Law Solicitors – andrew(at)clearlawonline(dot)co(dot)uk