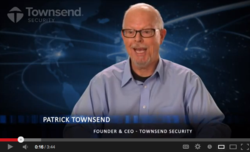 Today the average data breach costs a company $5.5 million. At this price, data security is no longer an "IT problem."
Olympia, WA (PRWEB) March 25, 2013
Townsend Security, a leading authority in data privacy solutions, is releasing a series of short, educational data privacy videos to educate business leaders on the important role encryption and key management play in data privacy. The company is launching three videos and plans to release additional videos on data privacy topics throughout the year. Below are the three videos and their descriptions:
Why is Unprotected Data a Business Problem? - http://hub.am/YcSaFG
Today, the average data breach costs a company $5.5 million. At this price, data security is no longer and IT problem. The cost of a breach not only includes financial penalties but also forensics investigations, credit monitoring for customers, lost sales due to brand damage, and litigation costs. These losses represent serious business risk.
What is Encryption Key Management? - http://hub.am/YcSmF3
Security experts recommend using NIST-certified AES encryption coupled with an external encryption key management hardware security module (HSM). For organizations who have been encrypting their sensitive data, security audits often find they haven't been properly managing their encryption keys – leaving them ineligible for a safe harbor in the event of a breach.
Encryption Key Management for the Cloud - http://hub.am/WHifcV
As enterprises move their data into the cloud, their number one concern is security. Cloud environments are fundamentally shared environments. Patrick Townsend, CEO & Founder of Townsend Security, discusses the new data security concerns and risks associated with the cloud, and what it means for organizations storing sensitive data in the cloud
About Townsend Security
Townsend Security, the encryption company, provides data privacy solutions to help organizations meet evolving compliance requirements and mitigate the risk of data breaches and cyber-attacks. Our NIST and FIPS 140-2 certified solutions meet the encryption and key management requirements in PCI, HIPAA/HITECH, and other privacy regulations. Over 3000 companies worldwide trust Townsend Security for their encryption, key management, tokenization, and logging solutions to protect their sensitive data from loss, theft and abuse. Additionally, Townsend Security is a Microsoft Silver Partner, Oracle Gold Partner, VMware Technology Alliance Partner, and IBM Business Partner. Learn more at http://www.townsendsecurity.com.
Luke Probasco
Townsend Security
P: 360.359.4400
F: 360.357.9047
luke.probasco(at)townsendsecurity(dot)com
http://www.townsendsecurity.com