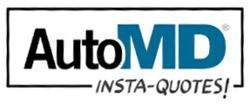 AutoMD Insta-Quotes! brings pricing transparency, choice and convenience to the car repair process and revolutionizes it similar to the way Kayak.com® transformed travel.
(PRWEB) March 04, 2013
AutoMD Insta-Quotes!, a new online service that helps consumers save time and money in car repairs - often to the tune of several hundred dollars or more - by providing multiple, comparative quotes instantly online from up to 15 local shops, launched in Bakersfield, California today. Local residents have the exclusive first chance to test drive this first-of-its-kind service before any other market in the nation.
"AutoMD Insta-Quotes! brings pricing transparency, choice and convenience to the car repair process (a process that often leaves consumers confused about what shop to go to or how much to pay) and revolutionizes it similar to the way Kayak.com® transformed travel," said Shane Evangelist, CEO of U.S. Auto Parts. "Rather than having to visit or call multiple local repair shops to get the right price quote and the right shop, AutoMD Insta-Quotes! does all the work for consumers – and it happens almost instantly online, including apples-to-apples comparisons of parts pricing and labor time. Plus, AutoMD Insta-Quotes! offers a 100% satisfaction guarantee on all service and 5% cash back. We want Bakersfield consumers, and ultimately consumers everywhere, to understand that they shouldn't get their car repaired until they check out AutoMD Insta-Quotes! first. It's that beneficial."
So exactly how does the AutoMD Insta-Quotes! service work and what are its benefits?
1) Consumers visit AutoMD Insta-Quotes! online at http://www.AutoMD.com/IQ/how-it-works.
2) They input the type of car they own, the repair they need (or a request for diagnosis) and their location.
3) Within seconds, they are shown multiple competitive quotes for that repair from participating local repair shops. These quotes provide the same parts brand for each estimate, eliminating concerns over low quality parts, and to provide direct comparisons. Hourly labor costs and the time the job will take - plus warranty info, shop details and consumer reviews - are also included.
4) Consumers can then compare quotes and shops, ultimately calling the shop of their choice to make an appointment.
5) AutoMD Insta-Quotes! practically pays consumers to use it: membership is free and includes 5% cash back on car repairs completed at any of the participating shops (cash back is done through a simple credit card sync processes where cash back appears as a credit on the synced card).
6) AutoMD.com backs all participating AutoMD Insta-Quotes! repair shops with a 100% satisfaction guarantee — if customers are unhappy with the repair(s), AutoMD.com will make things right with the participating repair shop or will take the car somewhere else to be fixed.
Evangelist says there are many benefits associated with using AutoMD Insta-Quotes!, but highlights three primary ones that help solve common car repair problems:
1) Because it provides a wide range of quotes, AutoMD Insta-Quotes! helps eliminate the uncertainty associated with whether or not a car repair quote is fair, a common concern among customers.
2) Because local shops have the opportunity to compete for their business, consumers can benefit from cost-savings on car repairs.
3) Because quotes are generated within seconds online, consumers can do it from the convenience of their home or office – or even on their smart phone – and save time often spent making multiple phone calls or traveling from shop to shop.
AutoMD Insta-Quotes! chose Bakersfield, CA for its world debut based on an analysis of key market factors including the quality of participating Bakersfield auto repair shops based on customer service indicators and positive reviews from actual car repair customers in that area and the volume and type of repairs currently being performed for Bakersfield car owners by local repair shops. The company plans to roll the program out nationwide in the months to come.
About AutoMD Insta-Quotes!
AutoMD Insta-Quotes! is the first-ever service to empower consumers with instant multiple comparative quotes on auto repair jobs. With a mission of bringing pricing transparency, choice and convenience to the car repair process, AutoMD Insta-Quotes! makes vehicle servicing easy and pain-free. Car owners simply select the vehicle, needed service and their location to receive as many as 15 online auto repair quotes from local shops - including parts, labor hours and warranty pricing - in seconds. Only high quality, reputable repair shops can participate in AutoMD Insta-Quotes!, which offers consumers 5% cash back and a 100% satisfaction guarantee.
About AutoMD.com
AutoMD.com™ (http://www.automd.com), a wholly-owned subsidiary of U.S. Auto Parts Network, Inc., (Nasdaq:PRTS), is the most comprehensive and unbiased free online automotive repair resource designed to empower car owners with the best way to repair their vehicles. Backed by a team of automotive data specialists and certified auto mechanics who are advocates for the car owner, AutoMD.com allows both car owners and DIYers to 1. Troubleshoot car problems, 2. Know how much auto repairs should cost, 3. Understand the steps needed and the time it should take with How-to Auto Repair guides, 4. Find the right local auto repair shop at the right price for their issue, 5. Get auto repair questions answered by the AutoMD.com community, and 6. Get instant comparative quotes on repair jobs from local repair shops. AutoMD.com was named Best Automotive Website in the 8th annual American Business Awards, also known as the Stevie® Awards. AutoMD Mobile is available for the iPhone at iTunes.
Contact:
Media Relations
Melanie Webber, mWEBB Communications, (424) 603-4340, melanie(at)mwebbcom(dot)com
Angela Jacobson, mWEBB Communications, (714) 454-8776, angela(at)mwebbcom(dot)com