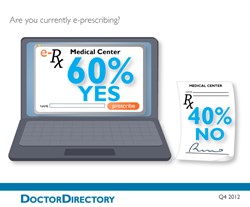 Asheville, NC (PRWEB) March 07, 2013
Despite facing penalties for non-compliance, four out of 10 HCPs are still not currently ePrescribing according to a survey released by DoctorDirectory in late 2012.
A survey of over 250 practicing healthcare providers reveals that six out of 10 are currently ePrescribing. According to the Centers for Medicare & Medicaid Services (CMS) ePrescribing is a requirement for meaningful use of EHR systems and prescribers face penalties for not complying.
From CMS, "individual eligible professionals and group practices participating in the eRx Group Practice Reporting Option (GPRO) who are not successful electronic prescribers will be subject to a 1.5% payment adjustment on their Medicare Part B services provided January 1, 2013 through December 31, 2013."
Surprisingly, for four out of 10 prescribers, missing out on the benefits of ePrescribing and the 1.5% CMS penalty have not been incentive enough to start utilizing this new electronic format. Further action will be necessary to incent the 40% to make the switch away from paper prescribing.
For more information about this survey or how DoctorDirectory can impact your brand, please visit ContactDD.com or call 828-255-0012 ext. 105.
About DoctorDirectory
DoctorDirectory specializes in providing healthcare professionals the opportunity to participate in Market Research and other programs that help shape the healthcare industry. DoctorDirectory's exclusive IncreaseRx marketing solution provides pharmaceutical brand teams with access to virtually all U.S. prescribers and generates measurable and verifiable incremental revenues in a gain-share arrangement. Visit ContactDD.com to learn more. Follow DoctorDirectory on Twitter @ContactDD.