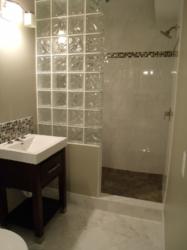 ServicePro provided cost and quality saving expertise that saved us from poor choices with long term consequences. Highly recommended.
Wahington, DC (PRWEB) March 07, 2013
ServicePro Express, Inc. was awarded the "Best of the Best" designation for excellence by Follow Media Consulting, Inc. in the category of Bathroom Remodeling Fairfax. This award signifies the continued commitment and dedication of the areas best in bathroom remodeling services.
ServicePro Express, Inc. is a personal home remodeling workforce able to give clients exactly what they desire: design help, expert installation, even service repair, maintenance and handyman service. ServicePro Express, Inc. is headed by Chris Langley, the President of ServicePro Express, Inc., and has over 25 years of experience and education in construction and recognized as one of the textile industry's leading experts in flooring, design consultation, and consumer education. Mr. Langley has formally trained and consulted hundreds of retailers, builders, interior designers, contractors, installers, subcontractors and literally thousands of new home buyers in product knowledge, fashion, and proper installation.
At ServicePro Express, they take pride in building lifelong customers because of their highly educated expertise and personal service, they treat ever customer as if they were their only customer. ServicePro Express, Inc. aids their clients in making informed decision to meet the latest fashion while satisfying all budget ranges.
Visit ServicePro's website at http://www.serviceproexpress.com to browse a complete list of the services they offer as well as read the testimonials of many of their satisfied clients. Or give them a call at (703) 330-6124.
About Follow Media Consulting, Inc.
Named one of the best SEO companies by Jonas Marketing, Follow Media Consulting, Inc. is a rapidly growing worldwide firm of SEO, Social Media, and Mobile Marketing Professionals. Follow Media Consulting, Inc. headquarters is located in Richmond, VA. However, our professional team is networked across the world, with regional offices across the United States, in the United Kingdom, Canada, Australia, France, South Africa, the Philippines, and India.