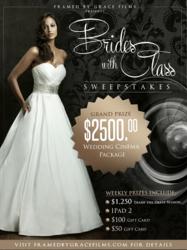 We are all about marriage, and we are staying true to our vision by making the wedding day one that will last forever
U.S.A. (PRWEB) March 27, 2013
Are you the definition of classy? Framed by Grace Films announces a contest that gives brides-to-be the chance to win film packages customized to suite their style. As wedding season approaches, the time is here to see if contestants have what it takes to be crowned a "Bride with Class."
The importance and sanctity of marriage is a powerful testimony that Telly Award winning and Emmy nominated business partners Walter V. Marshall and Darryl A. Bradford present with their work. Along with third partner Timashion Jones, their cinematography talents add a unique voice to the film industry. With an upcoming Fall 2013 release of independent film "A Love That Hurts," native Detroiters announce a contest for Brides with Class. Embracing the notion of a lifetime of love, it's only fitting to bring the film to life. Inspiring couples to enrich their marriage, the movie explores how to overcome tragic obstacles while leaving the marriage bond intact.
Some say young girls dream of their wedding day. Make it as memorable as possible while saving all the pennies you can, plus understanding the value of a healthy marriage. Not just ordinary wedding videography, it's about telling each couple's story. FBG aims to use creativity to add flair to the personal style of each bride and groom. With weddings being one of the sole most important days in life, savoring the moments and capturing memoirs to last a lifetime is what each couple deserves.
"We are all about marriage, and we are staying true to our vision by making the wedding day one that will last forever," Marshall says. With a film debut ahead, it seems fitting to tie in the message of "long-lasting love" as the premier nears.
With a 300 word or less description of what it takes to be a Bride with Class and completing a basic entry form, you could be on your way to winning a 5-minute wedding film and 10 hours of wedding day coverage. Weekly drawings will lead up to the last week's Grand Prize, a Wedding Cinema Package valued at $2,500. Winners will also be announced on the FBG blog. Other prizes include a $1,500 "Trash the Dress" session, iPad2 and Visa gift cards.
Other contest components include making detailed posts via social media sites. Whether an avid user of Facebook, Twitter, Instagram, Pinterest, YouTube or Google+, there is a chance to enter and WIN. Be sure to follow, retweet, like, repin and post according to contest guidelines. The month long sweepstakes begins April 1, 2013. For detailed entry rules and restrictions visit http://www.framedbygracefilms.com
Lead Director Walter V. Marshall has more than 11 years of experience from years in videography for the U.S. Marine Corp, as a photographer, director and cinematographer. Bradford adds to this dynamic team with a telecommunications and media background. Combined with Jones, this triple threat team makes a passionate mark as the spring/summer wedding season approaches.
So, go for it…show you are the epitome of a Bride with Class!
###