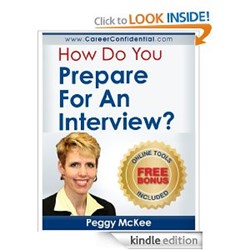 Dallas, Texas (PRWEB) March 02, 2013
CEO Peggy McKee has worked with many many hiring managers over her 13 years as a Career Coach and had created a book, "How Do You Prepare For An Interview" which has recently been released by Career Confidential. On February 26, 2013, Amazon will have complimentary copies available for a limited time, compliments of Career Confidential. This is a valuable tool for any job seeker in today's job market regardless what experience or level of employment is sought. From a recent graduate to a highly experienced executive level, this recent released complimentary book, "How Do You Prepare For An Interview" is a must have.
Career Confidential's CEO Peggy McKee has valuable information that will help any job seeker with interview preparations in her recent released book, "How Do You Prepare For An Interview". This book will be available through Amazon on September 26, 2013, complimentary, for a limited time and anyone in the job market should have this book. After reviewing the book, post a review and share with others what a valuable tool this complimentary book has been.
From this book, job seekers will learn exactly what it is that a hiring manager is looking for during a job interview. This complimentary book by Peggy McKee will give advice on how job seekers can uncover information about the prospective employer as well as how to answer those dreaded questions everyone hates. By giving a review afterward, every job seeker has the opportunity to get this newly released book on Amazon, February 26, 2013 and learn in a short time what Peggy McKee, the author and a Career Coach as learned over years.
A complimentary copy of "How Do You Prepare For An Interview" will be available through Amazon on until March 2nd for a limited time in exchange for a review to be posted. No matter the experience level of the job seeker or what position the interview is for, this recent released book on Amazon, written by Peggy McKee, Career Coach and CEO of Career Confidential, is the guide that will help nail the interview and can get any job seeker an offer. For a limited time, started February 26, 2013, this book will be complimentary on Amazon in exchange for a posted review of the book.
Anybody that is in the job market today can't afford to miss this chance to get this complimentary book that has just been released by Career Confidential as authored by Peggy McKee, the CEO and a Career Coach. Get the advantage of her years in the business in one book and give the best interview ever that will land the job offer. A job seeker will go from getting this complimentary book on Amazon to an employed status in no time starting February 25, 2013 but only for a limited time.
To download the book from Amazon, simply click this link: http://www.amazon.com/dp/B00BBJW2XW
# # #
Career Confidential is committed to getting the unemployed back to work in 2013. After assisting over 10,000 people get a job, Career Confidential has set a goal to get 10,000 more people their dream jobs in 2013. Career Confidential exploded in 2012 with a 94% growth rate over 2011 in a down economy.
Based in Texas, Career Confidential specializes in the techniques and tools needed for a job search to be successful. This product is a customized and proven system that gives job seekers the power they need to nail the job they want.
With the guidance of CEO Peggy McKee and CTO Carl Chapman, two nationally recognized experts in the field of job search training, Career Confidential was founded in 2009 so that the original product, The 30/60/90 Day Business Plan, could be distributed more widely among job seekers across the world. From that one product, they now offer over 30 products that teach techniques and tricks to help every job seeker to land that perfect job.