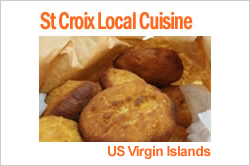 They call it traveling for a reason, go beyond the tastes and establishments found close to home and enjoy more of the local St. Croix culture.
Christiansted, VI (PRWEB) March 07, 2013
A new addition to the St. Croix Island travel guide by the Financial Firebird Corporation announced today features information on local cuisine and entertainment. Many visitors want to venture beyond the standard restaurants suggested in other publications and try the food and establishments frequented by the local residents or cuisine more closely linked to the Caribbean region. The new article offers these travelers ideas for some great meals.
When in Rome, do as the Romans do can be applied in many ways to an exotic vacation. While in St. Croix, the first local custom tourists must adapt to and adhere to involves driving on the left side of the road. For a guest to fully immerse themselves in Cruzan culture one must venture beyond the standard highways of French, Italian and American cuisine, no matter how excellent some of those options on St. Croix might be. Go down the road less traveled and eat at the restaurants on St. Croix where the locals dine and order the food that the Cruzan's eat. In addition to names of restaurants one might otherwise pass by, learn about dishes like roti or fare made from goat or conch.
Sometimes learning about local customs and dining extends beyond just the menu. The article examines dinner entertainment in St. Croix including local musicians and Caribbean shows including local favorites, the Moko Jumbie, featuring people in traditional Caribbean or African costumes on stilts.
In the mood for local drinking in addition to the local St. Croix restaurants? Take a tour of either the Captain Morgan or Cruzan Rum factories and learn about the Caribbean drinks for ordering later. Those of proper age, 18 in the US Virgin Islands, taste a few options at Captain Morgan or order a wide choice at Cruzan, even make up your own. As long as it's St. Croix rum it all counts as a local experience.
They call it traveling for a reason, go beyond the tastes and establishments found close to home and enjoy more of the culture from the destination selected. Beyond the added pleasure from the specific new experiences, the joy may lead to many more trips in the future.
About Travel St. Croix
Travel St. Croix and its sister sites, featuring Travel in St. Thomas and Travel in St. John, are affiliated with the Financial Firebird Travel Corporation, sought by travelers in search of vacation spots and tourism information on the United States Virgin islands. The company owns a variety of domains with other U.S. travel offerings as well.