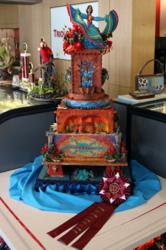 Bedford, NH (PRWEB) March 10, 2013
Triolo's Bakery of Bedford, NH competed with the best of New Hampshire, Massachusetts, Connecticut, New York and New Jersey in this year's "Connecticut Cake Competition" held at the Marriott in Hartford, Connecticut. The Sugar Fiesta theme showcased cake entries from Beginners, Advanced, Culinary Students, Professional, and Master's Division cake artists.
Triolo's award winning design team, lead by Master Cake Decorator Bryson Perkins, was rounded out by Professional Cake Decorators Allison Winslow and Amada Cote. Their entries were in the Special Occasion Cake Category, Show Theme Category, Masters, Chocolate Professional, and Wedding Cake Competition.
Bryson Perkins, Creative Director of Triolo's Bakery, won the Grand Prize and Decorator's Choice in the Wedding Cake Division for his wedding cake entry. Perkins said his inspiration was to pay homage to the Mexican celebration of life. "I included elements to depict a sampling of the desert and lush green landscape of Mexico." These elements included traditional native Mexican flowers, a beautiful flamingo dancer, a rustic Mexican water fountain, and incredibly detailed mosaic artwork. The entire wedding cake was made of modeling chocolate dusted with Crystal Colors.
The incredibly colorful and lifelike Macaw Parrot perched on a stump in the forest, created by Perkins, won the People's Choice award. Perkin's was also awarded first place, and Best of Division under the Master's Category for this entry. The life like detail in the feathers took Perkins hours of tedious labor and attention to detail. Perkin's noted the entire entry was made of modeling chocolate and gum paste.
In the Chocolate Division, Perkin's won the First Place and Best of Division as well as Best in Show for his Iguana climbing on a desert tree. This entry was sculpted using modeling chocolate dusted with Crystal Colors. Elements included a realistic looking Iguana, life like pebbles, and desert plants.
Allison Winslow, lead decorator at Triolo's Bakery, won in the Show Theme Category, Professional Level, for her Donkey and Mice entry made of modeling chocolate. The entry depicted two mice playing cards with a third mouse taking a siesta in the afternoon sun, and a dopey donkey anxiously awaiting passengers.
Amanda Cote, decorator at Triolo's Bakery, won in the Special Occasion Cake Category, Professional Level for her Dia De Los Muertos, made of gum paste, modeling chocolate, and royal icing. The colorful skull on a mosaic tiled box was garnished with a garland of traditional Mexican flowers. When asked about her piece, Cote explained it was a labor of love.
Perkin's noted, "It was an inspirational learning experience and I am very proud of our team's success." Triolo's Bakery of Bedford, New Hampshire opened their doors to the public on December 10th, 2012.
Triolo's Bakery is a from-scratch bakery with traditional flavors and cutting edge designs. Although Italian named, the bakery offers a broad range of European and American inspired desserts. Perkin's Hawaiian heritage shows through with blends of exotic flavors to complement the traditional elements, as can be found in the Kona Tiramisu, the Hibiscus Mango Entremet, the Lili Koi Entrement, and the Passion Fruit Macaron.
Triolo's Bakery is best characterized by their motto "We Bring Desserts to Life". The winning entries are on display at Triolo's Bakery through the month of March. Follow their story on Facebook at https://www.facebook.com/TriolosBakery.