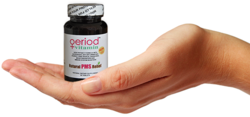 "That's a large part of why Period Vitamin is recognized for being one of the best all-natural PMS supplements. Women can trust that there are no dangerous side effects due to long-term use of Period Vitamin.
Los Angeles, CA (PRWEB) March 05, 2013
The makers of Period Vitamin announce the release of a new and improved formula that's based on extensive research and years of customer feedback.
The new Period Vitamin formula, which contains evening primrose, chasteberry, cranberry, white willow bark, red raspberry, black cohosh and much more, is quickly catching the attention of women who regularly suffer from PMS Symptoms.
"I suffered from a wide range of PMS symptoms – the worst being insomnia - before I found … Period Vitamin," said Rose Rochelle of Boulder, CO. "Around my period, like clockwork, I wouldn't be able to get a single wink of shuteye. I tried every trick in the book. I counted sleep. I stayed up watching mind-numbingly boring television. I even used prescription sleeping pills to cure my insomnia. But when I couldn't shake off the grogginess enough to function like a normal human being during the day, I decided to actually treat my insomnia at the source, rather than mask it with an addictive sleeping pill. Period Vitamin did exactly that. It's blend of soothing, calming and stress-relieving herbs works with every vitamin and mineral to boost your health while combating period-related insomnia. With Period Vitamin, I can finally get my eight hours every night."
The makers of Period Vitamin say the new and improved version uses a unique, proprietary combination of vitamins, minerals and herbs to relieve all the symptoms most commonly associated with PMS, including:

Cramping
Bloating
Changes in Mood
Acne
Decreased Sexual Desire
Migraine Headaches
Breast Swelling and Tenderness
Food Cravings
Weight Gain
Sleep Pattern Changes
The ingredients in Period Vitamin have been proven to work through extensive use as well as scientific study. For example:
According to the Memorial Sloan-Kettering Cancer Center, evening primrose can be used to treat period cramps and other menstrual symptoms. Evening primrose has also been shown to treat menopausal symptoms and fibrocystic breast disease.
According to the American Academy of Family Physicians, chasteberry has been shown to relieve breast discomfort and menstrual irregularities.
An article by website LiveStrong.com points out that cranberry can be used to treat PMS as it's known to decrease water retention and relieve painful period cramps.
In an article published by researchers at the University of Maryland Medical Center, white willow bark can be used to treat pain and inflammation, especially those experienced during the menstrual cycle. White willow bark can also boost the immune system.
In a study conducted by the faculty of Food Technology and Biotechnology at the University of Zagreb in Croatia, red raspberry has been shown to filter excess hormones out of a person's blood stream. This can help relieve muscle spasms and uterine cramping associated with the menstrual cycle.
According to multiple studies compiled in an overview by US National Library of Medicine and National Institutes of Health, black cohosh contains a phytoestrogen that mimics estrogen, which helps to combat period acne and mood swings associated with fluctuating hormones.
Period Vitamin contains many more beneficial ingredients and is produced in a GMP certified lab. For more information about the new Period Vitamin, please visit http://www.periodvitamin.com.
ABOUT PERIOD VITAMIN
Period Vitamin was created in January of 2008 by manufacturers looking to create a vitamin that provides women with the nutrients they need to have a balanced vitamin intake and combat the causes of PMS. Working with natural ingredients, they formulated a product that can address the causes of PMS and found the right combination of all natural ingredients to fight those changes in the body. By looking at the causes of PMS from a scientific standpoint, the makers of Period Vitamin found that hormone fluctuations were the root cause of PMS symptoms. The answer was to start with each symptom and address which hormone change caused that symptom and then finding a natural ingredient to counterbalance the hormone change. All ingredients in Period Vitamin are natural and the completely safe formula does not contain a single preservative or synthetic ingredient.