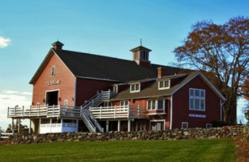 "The Golden Lamb Buttery is a special place for many people and I'm excited to continue the tradition with old friends and new," says Katie Bogert, owner.
Brooklyn, CT (PRWEB) March 20, 2013
Come one and all to the Golden Lamb...you will be arriving just in time for our 50th anniversary celebration! And keep in mind, like many other of the finest restaurants on God's green Earth, one's evening at the Buttery encompasses far more than just the unforgettable, impeccably-crafted plats de resistance. In fact, our unique blend of fine French bistro and rustic country elegance was kneaded for some time, gradually rose and has since been baked to perfection.
The restaurant began in 1963 by two enterprising fashionistas running a family textile business on their family farm in Brooklyn, CT, Bob & Virginia "Jimmie" Booth. Decades before "farm-to-table" became a well-known description for such a thing, their 100-acre spread commonly supplied ingredients needed to feed their early clientele and, in recent years, the capacity for this self-reliance has been aggressively expanded. In 2008, Bob & Jimmie's granddaughter, Katie Bogert, took over the operation and the great family tradition.
In 2013, the Golden Lamb Buttery will be celebrating 50 years, with the season beginning for a special Easter Dinner on March 31, 2013. Following the holiday, the restaurant will resume its regular schedule, serving lunch Tuesday – Saturday from 12:00 to 2:30pm and dinner Friday and Saturday evenings beginning at 7:00pm ($75 dinner prix fixe). Dinner reservations include a hayride with a guitarist accompaniment throughout the pristine 1,000-acre farm, music during dinner and a memorable meal at a table that is yours until the candles burn down. To celebrate the 50th anniversary, we will be offering a reduced $50 prix fixe for all Friday evening dinners in April & May.
After 50 years of careful preparation, we look forward to a not-too-distant opportunity to show you just have brightly this Golden Lamb has come to shine. Our guest book remains open, patiently awaiting your arrival.