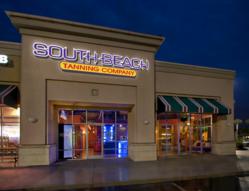 "This location will get a full half-million dollar renovation," says Brian Hibbard, founder and president of South Beach Tanning.
Orlando, FL (PRWEB) March 11, 2013
South Beach Tanning Company has continued its salon conversion program by acquiring an existing salon in the Orlando market, located in the Plaza Venetia along "restaurant row" on Sand Lake Road. Brian Hibbard, South Beach Tanning Company's founder and current president states, "The Dr. Phillips market is one of the few markets left in Orlando in which we didn't have a presence, and coincidentally, it has been our most requested expansion location. The addition of this high profile location to our portfolio now positions South Beach Tanning in every major market in the Orlando area. This was an extremely well-run and respected location under the former brand, so we were fortunate to have acquired it." South Beach Tanning already has plans to put their own stamp on the new location and the conversion of the space will be extensive. "This location will get a full half-million dollar renovation including about $300,000 in state-of-the-art tanning equipment," says Hibbard. The salon will remain open during the conversion process, which should take about 45 days to complete.
The tanning industry is a $5 billion dollar-a-year industry, with about 30 million people, or 10% of the U.S. population, visiting an indoor tanning facility each year; but just like the video industry in the 80's and 90's, the tanning industry is consolidating into just a few major national and regional brands. South Beach Tanning Company, by expanding with a combination of franchise locations, corporate locations and its salon conversion program, plans to be one of those brands. "Our conversion program has been extremely successful," says Hibbard. "We have acquired or converted 5 existing tanning salons in the past 12 months, and the results have been outstanding and have solidified our business model." With the success of their recent conversions, South Beach Tanning Company plans to amp up their conversion program. According to Hibbard, "Our team has become extremely proficient at converting over salons from other brands, so this is just the beginning. We feel the testing of conversions has been proven, and we are ready to take our conversion program to the next level. Expect quite a few more conversions to be announced in the coming weeks and months."
In addtion to the opening in Orlando, a new franchise location was recently opened in Charlotte, North Carolina. Read More.
ABOUT SOUTH BEACH TANNING COMPANY
South Beach Tanning Company is headquartered in Orlando, FL, and operates salons throughout Central Florida, Tampa, South Florida and Charlotte, NC. Founded by Brian Hibbard, a CPA, South Beach Tanning Company has been in business since 2003, and at the time of this press release, has never closed a location in its 10 year history. Individuals interested in franchising with the South Beach brand, or existing salons looking to convert to the South Beach brand, should contact their Franchise Sales Director at 855-844-8377 or visit our franchise website at http://www.southbeachtanningfranchise.com.