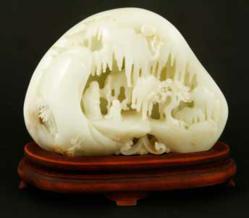 I am particularly excited about the huanhuali lanterns in this sale. It is very unique to see items of this size made from such precious wood. -Hellen Eagles, Asian Department
Beverly, MA (PRWEB) March 01, 2013
On Saturday March 30th Kaminski Auctions will host their Fine Asian Art and Antiques Auction, starting at 10:00 am. The auction promises to offer unique and valuable Asian items to interest collectors worldwide.
One of the items garnering the most pre-auction excitement is a large carved jade piece. The 5 3/8 inch tall piece of white jade has been dated to the Qing Dynasty (1644-1911) and depicts a naturalistic mountain scene with intricately carved figures of an elder and a boy in the foreground. Overhanging tees, a moon in the sky, and a wave below frame the carved scene. On the reverse, the artist has carefully rendered more trees and rock formations that complete the piece. This quality example of jade carving is predicted to be the top selling lot of the auction and is estimated at $60,000 to $100,000.
A pair of huanhuali wood lanterns also displays the high quality craftsmanship that is sure to attract many bidders. Mounted on four legged tall stands accented with scrolling floral designs and intricate cloud patterns, the lanterns have supporting pillars with images of bats carrying strings of six coins. The panels of the lamps themselves feature a detailed relief of a dragon chasing a pearl through the clouds. Eight dragon heads further embellish the ends of each lantern spoke. These large and beautiful lanterns are estimated to fetch between $10,000 and $20,000 as a pair.
A small painting signed Qi Baishi will surely interest many collectors of fine Chinese art. Qi Baishi was one of the foremost painters in China during the twentieth century. He chiefly painted the smaller aspects of nature, focusing his work on shrimp, fish, crabs, frogs, insects, and peaches. Qi Baishi's painting of wisteria that will be offered in the Kaminski auction similarly captures his lively style and love for the details of nature. The small wisteria painting is predicted to sell for between $10,000 and $20,000.
The auction will also include another Qi Baishi painting that captures the simplicity and delicacy of his work. This second example of Qi Baishi's work is a small framed watercolor on paper and depicts an iris bloom in a simple cup and is estimated at $10,000 to $20,000.
A gilt bronze figure of Luohan carries a high estimate in this auction as well. The figure is inscribed with a Qing Qianlong mark and sits with one knee raised and hand placed in an elegant abhaya mudra position. The high quality eighteenth century figure is estimated at $10,000 to $15,000.
Another gilt figure is also among the top lots of the sale. Lot 4169, a gilt figure of the seated Buddha from the eighteenth or nineteenth century, is estimated to fetch between $8,000 and $15,000 on the day of sale.
A pair of monumental ivory elephant tusks rounds out the predicted top five lots of the sale. These seven foot tall tusks are accompanied by a hunting certificate noting the hunter's membership to the "One Hundred Pounder Club" for the weight of the tusks. Both tusks weight in at over one hundred pounds each. These tusks originally belonged to Dr. Paul and Ann Gardner of New England. The world traveling couple lived in New England, England, and other parts of Europe as well as Africa, and acquired these tusks on one of their many game hunting expeditions to Africa. These tusks are valued at $8,000 to $12,000.
Other noteworthy lots of the sale include a white jade figure of Guanyin, carved inside an enclosing oval of jade. The fingers and hands of this figure are particularly well carved, and add life and realism to the piece. This lot, 4028, is estimated at $20,000 to $30,000.
Another example of fine jade work in the sale is a carved jade pendant from China. The rectangular pendant is decorated with four archaic characters. A scrolling border incorporating the heads of many mythical beasts as well as the symbol of longevity surrounds the obverse side of the pendant, while the reverse features a rectangular cartouche of a plum tree and scholar's rock. This elaborate pendant carries an estimate of $8,000 to $12,000.
Preview of these exciting lots and many other fine objects will take place Wednesday March 27th, 10:00am to 5:00pm; Thursday, March 28th, 10:00am to 5:00pm; Friday, March 29th, 10:00 am to 8:00 pm, and starting at 8:00 am the day of sale.
Kaminski Auctions, located on the North Shore of Boston, has been serving the New England antiques market for over 25 years as a full service auction house and appraisal service for fine art, antiques and estates.
With two locations in Beverly, Massachusetts, including a new state of the art auction gallery located at 117 Elliott Street, and a historic 1850's barn and office facility at 564 Cabot Street, Kaminski Auctions hosts 25 auctions a year.
In today's highly competitive market of fine art and antiques, Kaminski Auctions provides its customers with bicoastal services and marketing with west coast offices in Beverly Hills and San Diego, California.
Kaminski Auctions offers specialty departments in Asian Art and Antiques, Silver, Glass and Lamps, Couture and Vintage Clothing, Photography and Modern Design . We have highly trained and knowledgable appraisers on staff that will help you determine the true value of your antiques, or entire collections. Free Appraisal days are offered every Tuesday from 10:00am-4:30pm at our 564 Cabot Street location in Beverly, Massachusetts & our 5171 Santa Fe Street location in San Diego, California. We welcome emailed photos of your items!
Contact Harry Morgan - hmorgan(at)kaminskiauctions(dot)com