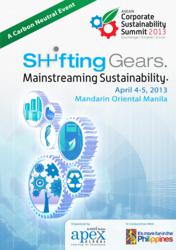 Manila, Philippines (PRWEB) March 05, 2013
ECC International – through its learning solutions arm, APEX Global, is organizing the 2013 ASEAN Corporate Sustainability Summit. The event, which is happening on April 4-5, 2013 at the Mandarin Oriental Hotel Manila will feature 40 Sustainability Leaders from 10 countries and will bring together 200+ Sustainability Practitioners from the ASEAN region.
The theme of this year's Summit is "Shifting Gears. Mainstreaming Sustainability." as it aims to bring focus on how businesses can no longer ignore global factors, which are referred to as the Sustainability Headwinds, such as Globalization, the Digital Explosion, Population Growth, Ecological Decline, the Inefficient use of Resources and Climate Change, and how sustainability initiatives have become a key differentiator and, now, imperative for businesses to survive.
In order to enable the participants to make an impact in their fields and cultivate an exchange of ideas and knowledge, the speakers will feature one of the following Dimensions during their sessions: Case Studies, Standards & Best Practices, and Tools & Technology.
The Summit, which is the first carbon neutral event in the country, will feature delegates from the Southeast Asian region from industry, government, regulatory bodies, multilateral and the academe. Keeping this in mind, the organizers further augmented the theme into three stream sessions, which would make it relevant for the participants and enable them to put sustainability into action in their fields. The 3 stream sessions to be featured at the event are: Stakeholder Engagement & Value Creation, Governance & Strategy and Competitiveness through Innovation.
ABOUT THE ORGANIZERS
ECCI is the leading process improvement solutions provider in Southeast Asia, focused on process consulting, automation solutions and learning outsourcing services. They help companies achieve performance excellence by assisting them implement management systems and international standards/best practices across multiple domains and industries.
ECCI's partnerships with best-in-class technology companies help drive sustained excellence for our customers. As a solutions provider with instructional design capability and subject matter expertise in niche areas, ECCI helps organizations implement learning strategies and design learning content for improved performance.
APEX GLOBAL (The Academy for Professional Excellence) is the learning solutions arm of ECCI. Its sole aim is to promote performance excellence among professionals. They help customers achieve greater success through effective, experiential and results-oriented training delivery.
Applying the experience of training over 100,000 professionals in the last decade, a strong pool of expert trainers and facilitators with expertise in a niche array of domains and a strong regional presence, APEX Global provides an extensive portfolio of high-quality industry specific and functional programs coupled with high quality training materials to deliver its ultimate "promise"—the R.E.A.L. learning experience.