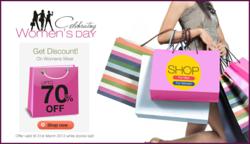 LuxeButik Celebrates March 2013 As Woman's Month And Offers Huge Discounts On Branded Fashion Products
Delray Beach, FL (PRWEB) March 04, 2013
March 8 is celebrated as the International Women's Day throughout the world. LuxeButik, a premier, high-end, designer clothes, fashion store, is dedicating the entire month of March, to women worldwide. Huge discount offers are being provided on various popular clothing brands like Alexander McQueen, Cavalli, Balmain, Dsquared, Prada, Roccobarocco etc. Accessories like handbags, jackets, gloves, bikinis, etc. from leading brands like Prada, Armani, Calvin Klein, Dolce & Gabbana and Cavalli, are also available at heavily discounted prices. So readers are invited to visit the website and find out more about the offers. For more information, please visit: http://www.luxebutik.com
Women's Day has had socialist beginnings in the early years of the last century. In 1975, 8th of March was adopted by the United Nations as the International Women's Day. Every year, various programs that create awareness about issues faced by women, are held to mark the occasion in almost all nations around the world. LuxeButik has a major part of its product catalogue dedicated to women. Therefore to celebrate the spirit of womanhood, LuxeButik has decided to dedicate the entire month of March this year, to women.
LuxeButik has a vast array of clothing product ranges such as suits, dresses, pullovers, T-shirts, jeans, etc. everything a woman would need for any occasion. The site also has branded accessories like purses, sunglasses, perfumes, shoes, bags, belts etc. to go with the clothes. The prices are directly displayed after discount and these vary within a range of 20 to 70% of the original costs. Check out the range of discounted designer clothes on offer right now.
The site also sports a lot of branded products for men as well. Suits, Shirts, Coats, Jackets, Hats as well as accessories like Belts, Boots, Perfumes, Ties, Sunglasses etc. from some of the most famous Men's fashion brands like Burberry, Calvin Klein, Corniliani, Cavalli, Armani, D&G are also available for purchase from this site. The site often runs promotional campaigns and visitors can usually enjoy more than 20% discount on almost all Men's products.
LuxeButik is a mail-order service that provides branded high-fashion brands at highly affordable prices. All available products are designed by high profile designers are sourced from Europe. As the products are ordered from the manufacturers in bulk, they can be provided at highly affordable prices. Please visit http://www.luxebutik.com to get more information.