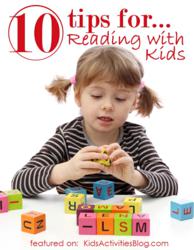 Make a DIY preschool puzzle with a cute heart stencil provided on Kids Activities Blog this week.
Dallas, Texas (PRWEB) March 01, 2013
Ten tips for reading readiness that will make learning letters much easier are currently featured on Kids Activities Blog. These ten tips will have the child playing with alphabet activities, name games, phonics and sound games, and even attempting to write the alphabet while having lots of fun.
The best tips include to read regularly and let the child practice writing a lot by writing their names on pictures, inside their books, and making thank you cards. Make name kits with the children, write each child's name on a sentence strip, make class alphabet books together with the child, sort magnetic letters, sing one of the many alphabet songs, play bingo or memory, and make an alphabet reference chart with the child's favorite pictures.
Other learning activities for young children featured on Kids Activities Blog include making a DIY puzzle and matching game. This activity will develop fine motor skills and aid shape differentiation. Make a heart stencil with the template provided on Kids Activities Blog. Then cut out hearts, write numbers on the hearts and heart cut outs and ready is the game. The child will have to match the numbers that are called out by the parent.
For detailed instructions and to get additional ideas, check out Kids Activities Blog this week. Come get inspired to get the kids learning while playing fun educational games.
About Kids Activities Blog
Kids Activities Blog is a website created by two moms (who collectively have nine children), Rachel Miller and Holly Homer from June Cleaver Nirvana. It is their daily goal to inspire parents and teachers to play with kids. This interactive website publishes simple things to do with kids twice a day. Kids Activities Blog is a great tool for moms and teachers to find kid-friendly activities that create memories and sneak learning into the fun.