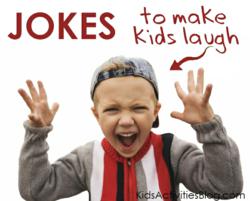 Silly jokes and funny pranks have Moms blogging in numbers about their favorites on Kids Activities Blog.
Dallas, Texas (PRWEB) March 02, 2013
Over 35 jokes for kids, and counting, have been released on Kids Activities Blog. Moms are replying in numbers about their kid's favorite jokes. A list of jokes for preschoolers and silly pranks for kids that are funny for kids and parents have also been released.
The super silly list of jokes for kids includes Knock, Knock jokes, Animal jokes, food jokes, and jokes about bodily functions. One of the favorite categories are preschool jokes that include silly word games such as why is 6 terrified of 7? Because 7, 8, 9.
Another preschool favorite is the question about what flower does everyone have in the face? The answer is two-lips.
Super silly practical jokes include putting a sardine on the car door, taping a bike horn behind the door, serving the kids cups of vanilla pudding instead of milk, and having an Easter Egg hunt with eggs that have been super-glued shut. Another kids favorite is gluing a money coin on the sidewalk and watching people trying to pick up the coin.
Sticking a gummy worm inside an apple will get the kids have a surprise bite during lunch. Ballooning a door and filling the shoes with beads are other cute favorites that will get the day started off giggling.
For detailed instructions and to get additional joke and prank ideas, check out Kids Activities Blog. Come get inspired to get the kids giggling this week.
About Kids Activities Blog
Kids Activities Blog is a website created by two moms (who collectively have 9 children), Rachel Miller and Holly Homer from June Cleaver Nirvana. It is their daily goal to inspire parents and teachers to play with kids. This interactive website publishes simple things to do with kids twice a day. Kids Activities Blog is a great tool for moms and teachers to find kid-friendly activities that create memories and sneak learning into the fun.