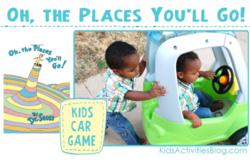 You have brains in your head. You have feet in your shoes. You can steer yourself any direction you choose.
~ Dr. Seuss
Dallas, Texas (PRWEB) March 05, 2013
A fun car game for tots has been released on Kids Activities Blog based on the Dr. Seuss book Oh The Places You'll Go. In the book, the character decides what direction his life is going to take, what paths to cross, and what turns to make. The tot activity lives out that story.
The game makes a great outdoor activity. Use any transportation vehicle the tot has, such as an Easy Turn Coupe, and draw an arrow on a paper plate. Let the kids decide who is Thing 1 and who is Thing 2 and let them take turns holding the arrow paper plate and driving the car. The car has to follow the way the arrow is pointing except into the street of course. This activity can go along the whole neighborhood and can turn into a nice spring walk.
Additional activities for one year olds have been released on Kids Activities Blog. These activities include edible sensory bins, re-purposing a tissue box as a fun game of touch and guess, a colorful spaghetti idea, a fabric bin out of yogurt containers, and sensory tubs of all kinds.
For complete instructions and additional great ideas, check out Kids Activities Blog this week. Come get inspired to get the toddlers learning the fun way.
About Kids Activities Blog
Kids Activities Blog is a website created by two moms (who collectively have 9 children), Rachel Miller and Holly Homer from June Cleaver Nirvana. It is their daily goal to inspire parents and teachers to play with kids. This interactive website publishes simple things to do with kids twice a day. Kids Activities Blog is a great tool for moms and teachers to find kid-friendly activities that create memories and sneak learning into the fun.