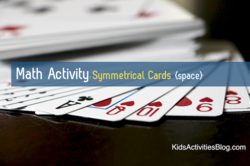 Exciting new card games make fun math lessons for kids.
Dallas, Texas (PRWEB) March 08, 2013
Kids Activities Blog has released fun and exciting math for kids tips and a cool math game with playing cards teaching symmetry.
A pack of playing cards can be used many different ways to teach math concepts to kids. Playing cards is brilliant since they are easy to get a hold of and are considered fun by many children. The game deck of cards fosters a child's geometric understanding of symmetry by identifying the rotation or reflection in the design. Playing the game is easy. Simply go through the deck of cards and let the child find the cards with line symmetry and rotational symmetry.
To take the activity a step further, Kids Activities Blog published a template to let the child design his or her own cards symmetrically.
Additional fun card games include Jacked Up War. This new game created by Bicycle has mixed up traditional card game playing with an app scanning codes during the game. The game is fun for the whole family. The cool thing about the Bicycle app is that it stays true to the traditional card games, such as solitaire or war, but the rules can be manually altered to make them even more fun for everyone.
Throughout the games, cards have to be scanned according to the flow of the game, and surprising things happen that has the whole family engaged in the game.
For detailed instructions and to get additional fun math game and card game ideas, check out Kids Activities Blog this week. Come get inspired to get the kids learning math the fun way.
About Kids Activities Blog
Kids Activities Blog is a website created by two moms (who collectively have 9 children), Rachel Miller and Holly Homer from June Cleaver Nirvana. It is their daily goal to inspire parents and teachers to play with kids. This interactive website publishes simple things to do with kids twice a day. Kids Activities Blog is a great tool for moms and teachers to find kid-friendly activities that create memories and sneak learning into the fun.