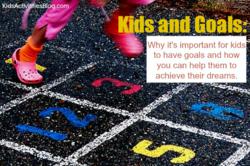 It is important for kids to learn how to set goals so that they will be able to achieve their dreams.
Dallas, Texas (PRWEB) March 09, 2013
Knowing how to set goals and achieving goals is an important life skill to learn for children, and even adults. Kids Activities Blog has released suggestions on how to teach children to set 2013 goals and achieve them.
Teaching kids about goals from an early age can boost their confidence and help them face bigger challenges later in life with a calm and more methodical approach. Having something to work towards provides a sense of purpose and will set examples on how to deal with set backs. The skill will teach kids to deal with stress and challenges later in life.
Ways to help a child to set and achieve goals are for example ensuring that they are making the goals their own, such as letting the child decide what he or she wants to learn in the upcoming year. Additional tips include setting small incremental goals, keeping the goal simple and age appropriate.
Being a mentor is another important suggestion. Showing enthusiasm for the goals the child has selected and being a guide when things are not going as expected are important roles for parents to help the child succeed.
For detailed suggestions and to get additional tips on how to teach children to achieve their dreams, check out Kids Activities Blog this week. Come get the free printable calendar for 2013 that has been published on Kids Activities Blog to keep track of important goals this year.
About Kids Activities Blog
Kids Activities Blog is a website created by two moms (who collectively have 9 children), Rachel Miller and Holly Homer from June Cleaver Nirvana. It is their daily goal to inspire parents and teachers to play with kids. This interactive website publishes simple things to do with kids twice a day. Kids Activities Blog is a great tool for moms and teachers to find kid-friendly activities that create memories and sneak learning into the fun.