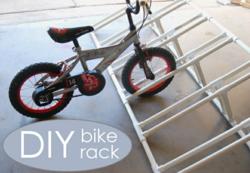 Give the bikes, tricycles, and bicycles with training wheels a permanent home in the garage this spring.
Dallas, Texas (PRWEB) March 10, 2013
Spring cleaning is just around the corner. Awesome how to make a bike rack and how to build a Lego table ideas that will finally clean up the garage and the game room have been published on Kids Activities Blog.
For families with several kids, bikes seem to have babies in the garage. Multiple hand-me-downs are stored next to tricycles and bikes with training wheels and are tangled up. Kids Activities Blog has a DIY solution to build a bike rack even with the help of the kiddos.
Materials needed to build the bike rack are only PVC pipes in various sizes, T connectors, and insert connectors. No glue is needed since the bike rack can be adjusted to fit the need. Simply assemble the PVC pipes according to the instructions provided on Kids Activities Blog and ready is the easy to do bike rack.
At the same time, clean up the game room from the Lego invasion. This easy to do Lego table is perfect for the older kids. There seem to be enough tables suited for the younger kids, so one Mom's clever idea to build her own table for her three older boys has created an incredible buzz on Kids Activities Blog.
The table provides plenty of building space for the Lego crazy kiddos, and allows to adjust the middle platforms according to the Lego set. The entire project cost a little less than $200 and provides a 59'' by 29 1/2'' play area. Materials can be purchased at IKEA and the online Lego store and assembly took just a weekend.
For detailed instructions on how to build the table and to get additional how to ideas, check out Kids Activities Blog this week. Come get inspired to get the kids' play areas cleaned up this spring.
About Kids Activities Blog
Kids Activities Blog is a website created by two moms (who collectively have 9 children), Rachel Miller and Holly Homer from June Cleaver Nirvana. It is their daily goal to inspire parents and teachers to play with kids. This interactive website publishes simple things to do with kids twice a day. Kids Activities Blog is a great tool for moms and teachers to find kid-friendly activities that create memories and sneak learning into the fun.