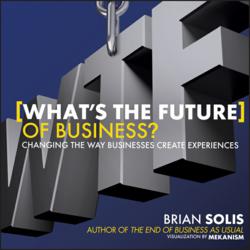 Experience is everything. And, businesses must create experiences that mean something. If necessity is the mother of invention, then vision is the father of innovation." - Brian Solis, author of #WTF
Hoboken, NJ (PRWEB) March 12, 2013
What's the Future of Business? Changing the Way Businesses Create Experiences (Wiley; March 2013; Hardcover & E-Book; ISBN: 978-1-1184-5653-8; $29.95) begins where the 2nd book, The End of Business as Usual left off. While The End of Business as Usual focused on the rise of the connected customer and the need for businesses to become adaptive, What's the Future of Business? aims to inspire a movement dedicated to customer and user experiences.
It's time for businesses to invest in proactive experiences. Solis believes, "Businesses must invest in defining not only a positive experience, but also a wonderfully shareable experience. Doing so influences others to join the fray while offsetting negative inquiries in the damaging viral effects of shared negative experiences."
The title of Solis' book is an acronym for WTF, a playful way to look at the frustration we all feel, but also explores what to do about it. This book also takes readers on a hero's journey to change organizations from the inside out. Readers will discover how experience design amplifies customer relationships and drives word of mouth.
WTF is also a much more visualized book than anything Solis has written before. He believes that the only way to convey the importance of an experience is to make the book an experience itself. WTF is a visual journey, similar to a digital app but in an analog format.
Solis has partnered with Mekanism, a well-known interactive design house, to help bring the book and the ideas in it to life. Additionally, Hugh Macleod (@gapingvoid) picked important themes throughout and developed original art to personalize each message. The result is something Solis hopes readers find engaging, entertaining and useful.
The goal of What's the Future of Business? is to stimulate a movement that aligns the tenets of user experience with the vision of innovative leadership to improve business performance, engagement, and relationships for a new generation of consumerism. Solis provides an overview of real-world experiences versus "user" experiences in relation to products, services, mobile, social media, and commerce, among others.
If markets are conversations and consumers are connected, WTF aims to foster meaningful and shareable customer and user experiences. Solis hopes WTF motivates both large and small businesses to rethink their business models, products and services, marketing, and customer and employee relationships with desired experiences in mind.