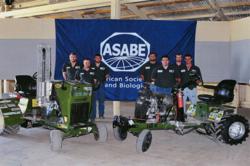 Quality Transmission Components announces the donation of various industrial automation components to the North Dakota State University ASABE
Garden City Park NY (PRWEB) March 04, 2013
Quality Transmission Components announces the donation of various industrial automation components to the North Dakota State University ASABE (American Society of Agricultural and Biological Engineers) student team, enabling the students to better compete against other Universities in this internationally recognized engineering competition.
"We welcome the opportunity to support up and coming engineers in these types of engineering competitions. The students not only put to use the engineering skills that they will need when they enter the workforce, but they also learn about teamwork and invaluable communication skills, which are sometimes overlooked in a technical education," said Brian Dengel, Assistant Vice President & General Manager at Quality Transmission Components.
Positive Impact
The students at North Dakota State University in Fargo, North Dakota, will benefit from the team building that a competition like the ASABE ¼ Scale Tractor requires. With Quality Transmission Components donating these components, the students can avoid spending their time on fundraising, resulting in more time being spent refining their designs and preparing their written reports.
About Quality Transmission Components
Quality Transmission Components is committed to delivering the highest quality industrial automation products in North America from stock. All of the products offered have 3D CAD models available for immediate download at http://www.qtcgears.com. Founded in 1993, as a division of Designatronics, Inc., Quality Transmission Components is a leader in the supply of power transmission components designed for use in industrial automation applications. The company offers a wide range of products including gears, pulleys, belts, chains, sprockets, tensioners and other related power transmission components, each in various sizes and styles to allow you the ultimate flexibility in your design.
Media Contact:
Herb Arum
516-437-6700 ext 107
qtcsupport(at)qtcgears(dot)com
For more information on Quality Transmission Components:
http://www.qtcgears.com