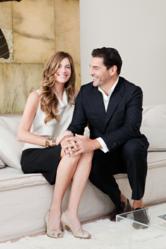 The dolce vita of dating is more about who you are being and less about what you are doing.
Los Angeles, CA (PRWEB) March 19, 2013
Having recently relocated to LA, Italian couple Andrea and Cristina Morara launch Stellar Hitch with a sensual twist by teaching their single clientele how to approach dating with more passion and romance.
"The dolce vita of dating is about slowing down, being authentic and open, reserving judgment and not letting practicality dictate your every move," explains Cristina.
Stellar Hitch incorporates dating coaching and image consulting in their matchmaking packages and specializes in bringing out people's best qualities -- on the inside and out -- before they are introduced to their match.
"Ninety percent of the time people are either stuck in a pattern, not putting their best assets forward or their perception of themselves is incongruent with what they're really putting out there…so we consider how they dress, move and communicate and give them crucial feedback," adds Andrea.
What sets Stellar Hitch apart from other matchmaking services are three things. First, they are everything that online dating is not: personal, intimate, elegant and safe. Second, clients get a male-and-female perspective on dating: Andrea teaches women how to flirt demurely and allow the man to lead while Cristina reminds gentlemen how to take a more confident approach to courtship. Third, feedback is king. "Our pre-dating preparation dramatically improves our client's dating life and is the #1 reason why Stellar Hitch has such a high success rate," reveals Cristina.
The couple is currently working on the book "The Dolce Vita of Dating: How A Vintage Approach To Romance Will Lead You Straight To The Altar."
Stellar Hitch is certified by the Matchmaking Institute and is currently based in Los Angeles, CA with offices in Tampa/Sarasota, FL.