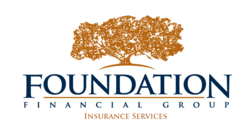 For Foundation Insurance Services, the move means that we can increase our staff at a faster rate without space restrictions.
Jacksonville, Florida (PRWEB) March 07, 2013
Foundation Financial Group affiliate Foundation Insurance Services has expanded into the SunTrust tower in downtown Jacksonville. The company was formerly located in the One Enterprise Center tower.
"This move means a lot to us," said Kevin Alsup, Vice President of Insurance Services. "I am extremely happy that Foundation Financial Group was able to secure the larger space so that we can continue to maximize the amazing opportunity we have here in Jacksonville to hire top talent."
The new space will allow the company to offer an additional 25 positions in Jacksonville.
Foundation Insurance Services offers a myriad of different types of insurance. Everything from auto insurance to homeowners insurance can be written through FIS. As a whole, Foundation Insurance Services works to provide their clients with the best insurance representation at low rates. They emphasize that "what is important to their clients is important to the organization."
"For Foundation Insurance Services, the move means that we can increase our staff at a faster rate without space restrictions," Alsup said. "I'm especially excited about that."
Foundation Insurance Services has realized tremendous growth since its fourth quarter 2010 launch. By first quarter 2012, FIS claimed it's first of many acquisitions and expanded its physical presence into the Atlanta and Rochester markets. Today, FIS has increased its staff by 900 percent and has a physical presence in 27 percent of Foundation Financial Group's brick and mortar office locations.
About Foundation Financial Group
Foundation Financial Group is a multibillion dollar financial services corporation. FFG offers its customers Best in Class service through its Insurance, Retirement, Mortgage, and Tax Services. Named one of the fastest growing financial companies in the country by INC magazine, FFG has continued to grow its nationwide presence with over 100,000 new customers per year in 39 states. In addition to the value that Foundation Financial provides every customer, it is also dedicated to its communities and the people who live in them. Through a vast array of philanthropic endeavors the company not only provides significant monetary donations but also fosters a workforce environment that encourages all team members to personally make a difference. Foundation Financial is committed to its strong focus on customer service and community investment as it continues to grow and compete with the largest financial institutions in the world.
Foundation Financial Group reviews all public relations inquiries. For additional information, interview and image requests, contact the Foundation Financial Group Public Relations team.