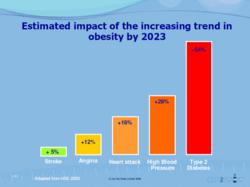 Barrington, NJ (PRWEB) March 08, 2013
Doctors and researchers have found that obesity and diabetes are connected, but how? Diabetes is such a common word thrown around nowadays, but what is it? For starters, 8.3% of the U.S. have diabetes and 79 million people are prediabetic! It is the leading cause of blindness and over 62% of nontraumatic lower-limb amputations occur in people with diabetes. It also complicates high blood pressure, stroke, heart, kidney and nervous system disease. It's a very serious condition and you do not want to get it!
There are two types of diabetes; Type 1 diabetes is an autoimmune disease in which little or no insulin is produced in the pancreas. Type 2 diabetes is when tissue looses sensitivity to insulin, type 2 accounts for 90 to 95 percent of cases. Type 2 diabetes used to be called "adult on-set" diabetes, but because of the increasing weight gain of all ages, it is no longer called that.
Type 2 diabetes is the predominant type of diabetes, and obesity is an underlying cause of it.
The obesity, diabetes cycle starts with:
•Genetic Inheritance
•Excess food intake
•Not enough physical activity
These three things lead to obesity, which then leads to:
•Enlarged fat mass
•Elevated blood lipids
•Inflammation
This leads to insulin resistance and that is a main factor in causing type 2 diabetes, which leads to increase of fat storage making gaining even more weight and start the cycle all over again.
There are ways to help prevent gaining weight, and therefore helping to prevent being diagnosed with type 2 diabetes.
•Physical activity – getting exercise gets the heart pumping and helps to get insulin into the cells
•Eating right – changing ones diet so there are less fatty foods help assist in maintaining a healthy weight. This is really the biggest step one can take to prevent and get rid of diabetes, if it is already diagnosed. One should be avoiding sugar, high fat and processed foods, and should be eating a lot of veggies, lean protein and meat.
Genetic inheritance only accounts for a small percentage of people who get diabetes, so exercising and eating right is how to help prevention of type 2 diabetes.
If you would like more information regarding steps to prevent or get rid of diabetes, visit email us info(at)southjerseyhealthandbody(dot)com or call us at 856-546-1230.
###
South Jersey Health and Body is a top rated weight loss and nutrition clinic, located in Barrington, NJ, and has consistently helped people learn how to live a healthy lifestyle and lose weight permanently. For more information on South Jersey Health and Body call 856-546-1230 or visit SouthJerseyHealthAndBody.com