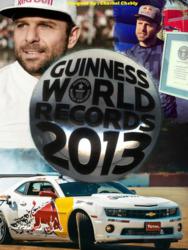 We are confident that we'll break many more world records.
Gainesville, FL (PRWEB) March 01, 2013
On Friday February 15th at the Yas Marina Circuit in Abu Dhabi, drift car racer Abdo 'Dado' Feghali in partnership with Red Bull, Chevrolet and EasyDrift, set a new Guiness World Record for longest drift. Feghali's record breaking drift lasted over 10 minutes and covered 11.18 kilometers, dominating the previous world record, which stood at 5.8 km.
Drifting refers to a motor sport technique where the driver intentionally over steers the vehicle while adding power to the rear wheels causing them to lose traction. This action must be maintained in a controlled manner for a determined distance to be called a drift.
Feghali did that exactly but for an entire 11.18 km.
Experts are wondering how Feghali kept a sideways skid for so long without burning up his tires. He credited his accomplishment to the EasyDrift system, a patented ring mount that fits over the rear tires. Feghali said, "Well that is our secret, we start burning that until the EasyDrift tires burst and then we continue on the normal tires."
Feghali drove a stock Chevrolet Camaro SS fitted with EasyDrift rings and whose only main upgrades include a hydraulic handbrake and KW suspension. The EasyDrift System slides over tire and rim to reduce grip and to reproduce skid conditions. It is easy to install, easy to use, can be used under any weather conditions and enhances driving on rear, front, and all-wheel drive vehicles. Louis Callard, owner of EasyDrift USA believes this will be the first of many, "When Alexander and I started the Easydrift adventure a couple years ago we were in unknown territory, today our path is quickly being paved, first with our success in Law Enforcement EVOC training and now in the motor sport world. We are confident that we'll break many more world records".
Founded in 2009 in Florida, EasyDrift is pursuing driver safety with the use of the Driver Training System to educate and train law enforcement personnel on how to recognize and recover from a loss of adherence and eliminate a potentially deadly situation.
Inquiries about Easydrift's DTS system is at:
http://www.easydriftusa.com
Louis Callard is available for interviews and can be reached at louis(at)easydriftusa(dot)com