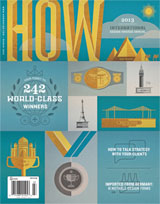 If you're looking to simply track time and create project invoices, TimeFox Classic (by FunctionFox) may be an appropriate solution.
Victoria, BC (PRWEB) March 01, 2013
FunctionFox is proud to have been named as one of the most popular tools for In-House and ad agency teams, in an article entitled "Project-Management Solutions" by Jackie Shaffer in the March/April issue of HOW Magazine.
Cella Consulting's Jackie Schaffer highlights the step-by-step process of choosing and implementing a project-management system solution for in-house teams. TimeFox was mentioned as one of the most popular products in this space along with Workamajig, Advantage, MetaCommunications Workgroups, and IBM Marketing Operations OnDemand.
The How Magazine Article can be found at:
http://www.mydesignshop.com/how-singles-project-management-solutions/?lid=JKhwca012213
About FunctionFox
FunctionFox is the leading provider of time and project tracking software for small creative companies. TimeFox, its web-based timesheet and project management software, is the number one ranked time-tracking system in North America. Graphic design, advertising, communications, marketing, multimedia, public relations, and interactive firms all choose TimeFox as their web-based time and project management application. TimeFox is currently used by thousands of customers in Canada, the US, Europe, Asia, Australia and New Zealand.
For more information please visit http://www.functionfox.com or contact:
Corina Ludwig, President
FunctionFox Systems Inc.
#2-415 Dunedin Street
Victoria, BC, Canada
V8T 5G8