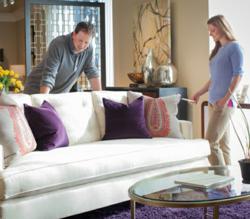 There is no debt or obligation when customers rent to own.
Austin, TX (PRWEB) March 21, 2013
ShopRTO.com was established to explain the nine benefits the rent to own transaction provides to the home furniture shopper. The nine aspects of the rent to own transaction include: brand names, new and in stock; the ability to return the home furnishings at any time without penalty; flexible payment terms; won't affect credit rating; free delivery and set up; free repairs; upgrade to the latest technology; try the products before buying and no debt incurred.
Research shows when comparing the nine benefits to the other retail choices, customers were more likely to consider rent to own for their home furniture needs. For instance, buying a bedroom outright means the customer cannot try it and return it without penalty or have it repaired for free if the customer causes the damage.
If the customer buys a flat screen TV on a credit card, they create debt. They will not be able to upgrade or downsize for free and are financially obligated and penalized if they cannot make payments.
If the customer buys 'used', the product could be faulty, damaged and the customer is obligated for the repair. The customer cannot try that previously owned laptop before they purchase. And they cannot upgrade to the latest computer technology unless they buy another computer.
The rent to own home furnishing industry and companies have had a difficult time explaining the different advantages when renting to own home furnishings such as living room furniture, washer and dryers, laptops and flat screen TVs. That's why the rent to own trade association created ShopRTO.com. Research shows that even current rent to own customers do not fully understand the transaction.
ShopRTO.com also went further to show how rent to own home furnishings is not about a refrigerator but about home living. The site provides home shoppers living and decorating and lifestyle tips to create a home that helps create a better life.
About ShopRTO.com:
ShopRTO.com provides affordable home furnishings and living tips for Americans. And when rent to own may be right for their home shopping choices.