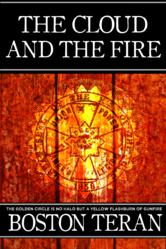 "The Cloud and The Fire is destined for the big screen."
Los Angeles, California (PRWEB) March 05, 2013
From best-selling author Boston Teran comes a new book, destined to ignite a bidding competition in the publishing and entertainment world. Titled, The Cloud and The Fire, the author's manuscript has just been presented to publishers mid February through the author's agent, Natasha Kern, of the Natasha Kern Literary Agency. The agent's manager, Donald Allen, handles film rights.
Boston Teran is the author of eight critically acclaimed books, but his true identity still remains unknown. Yet, he has been named alongside great American writers like Hemingway and Larry McMurty, as well as filmmakers John Ford and Sam Peckinpah, for his singular voice and ability to weave timely social and political themes into sweeping page turners that pierce straight into America's soul. Teran's novel, The Creed of Violence, sold to Universal for well into seven figures. Slated for release in 2014, the film version will be produced by Brian Oliver of Crosscreek Productions and Michael DeLuca, starring Christian Bale. Boston Teran's cult classic, God is a Bullet, is currently in film development.
The author's new book, The Cloud and The Fire, is set in 1862 California, and tells the true story of The Knights of the Golden Circle, forerunners of The Ku Klux Klan, and their attempt to create out of California the first apartheid state. Against the rugged back country of an America of unrivaled possibility and unparalleled hatreds, the novel follows three unforgettable characters whose lives intertwine in friendship, love, and their quest for justice.
Says manager Don Allen, "With God is a Bullet in development and The Creed of Violence in pre-production, it looks like another Boston Teran book is destined for the big screen."
The question is: Who will win the race to get a first look at the manuscript?