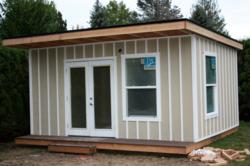 MakeSomeRoom is helping to free homeworkers from their cluttered nooks and get them into a space which they can proudly call their office
Portland, OR (PRWEB) March 08, 2013
For many working at home, a cramped corner is all the space they can afford to devote to their home workspace. MakeSomeRoom is a brand new business ready to free homeworkers from their cluttered nooks and get them into a space which they can proudly call their office.
As technology continues to make telecommuting easier than ever, it's appeal has become increasingly popular. Some businesses have adopted "Work from Home Fridays," where employees are granted one day each week to complete their tasks in their homes instead of at the office. With luxuries such as more freedom to choose when to work, no commute or travel expenses, and being closer to family; it's easy to see why it's so alluring.
Serving the greater Portland Metropolitan area, MakeSomeRoom offers backyard studios that meet the needs of many types of professionals and even those who need an extra space to express themselves and relax; whether that be through art, yoga or playing pool with the guys in a backyard man cave. Having a nice space separate from the house provides a distraction free setting where serious work, and not so serious play, can be done.
Much more than a shed, each backyard studio is fully finished with drywall, insulation, lights, flooring, windows, french style doors and more. To meet the size requirements and needs of a variety of customers, they provide three designs and several extras to choose from.
Unlike prefabricated units or kits that require several days of labor, MakeSomeRoom custom builds each studio shed on the spot from start to finish. Available sizes include; 120 sq. ft. 10' x 12', 140 sq. ft. 10' x 14', and a 200 sq. ft. 12' x 16' unit.
To contact MakeSomeRoom and find out more information about their quality built and competively priced backyard studios, visit their website found at makesomeroom.net.