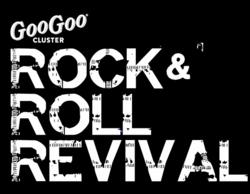 We look forward to a fun afternoon 'converting' folks to the deliciousness that is a Goo Goo Cluster at Cedar Street Courtyard, while listening to some fabulous live music in the Live Music Capital
Nashville, TN (PRWEB) March 01, 2013
Goo Goo Cluster, the Original Southern Confection, is pleased to announce the inaugural Goo Goo Cluster Rock n Roll Revival on March 13, 2013 from noon to 5 p.m. in Austin, TX. The musical showcase will be held at one of Austin's premier live music venues, Cedar Street Courtyard, located at 208 W 4th Street.
Open to guests 21 and over and free to attend, the Goo Goo Cluster Rock n Roll Revival will feature incredible live music by five acts, Rock n Roll Bingo, prize giveaways, and of course, free Goo Goo Clusters.
"Goo Goo Cluster has been a corporate party co-sponsor the last two years during the week of South By and we've really enjoyed those events," says Lance Paine, Executive Vice President of Goo Goo Cluster. "This year we decided to step up our presence by hosting our own event and we're thrilled to have such a dynamic lineup of talent to showcase. We look forward to a fun afternoon 'converting' folks to the deliciousness that is a Goo Goo Cluster at Cedar Street Courtyard, while listening to some fabulous live music in the Live Music Capital."
That dynamic lineup of talent includes Cory Chisel & The Wandering Sons, Julia Price, Montessori Dads, Shelby Earl, The Features, and Thee Oh Sees. From garage rock to Americana to power pop, the inaugural showcase has it covered, and is sure to be hit with music fans and chocolate lovers alike.
Additional information about the musicians and the event can be found at googoo.com.
About Goo Goo Cluster
Goo Goo Cluster, The Original Southern Confection, was invented in 1912 by Howell Campbell, who developed the world's first combination candy bar in a copper kettle at the Standard Candy Company at Clark & First Avenue in Nashville. The unique confection is a roundish mound of caramel, marshmallow nougat, fresh roasted peanuts and real milk chocolate. Today, the Original Goo Goo Cluster is also available in two additional varieties: Supreme, with pecans instead of peanuts, and Peanut Butter. Goo Goo Clusters are available in retail stores across the United States, as well as online. Visit http://www.googoo.com for more information.
About the Artists:
Thee Oh Sees – Known for their energetic live shows and whimsical aesthetic, San Francisco garage rock band Thee Oh Sees is set to release their new album, Floating Coffin on April 16. http://www.theeohsees.com
The Features – Since releasing The Beginning EP in 2003, the Nashville-based combo have established themselves as one of the most exciting and imaginative bands working today. Falling somewhere in the middle between mainstream and hipster, their sound is an amalgamation of influences and inspirations—spanning elements of Krautrock, indie, psychedelia, and classic AOR. http://www.thefeatures.com
Montessori Dads - A new - if not original - metaphor for modern man's midlife crisis, this Power Pop "Supergroup" features members living in New York, L.A. and Nashville. Be ready to rock when these Volvo-drivers hit the stage!
Cory Chisel – Cory Chisel is an old believer. You can hear it in his music – there's a wisdom beyond his years in that voice. You can see it in his story – the son of a preacher, sheltered from pop music, raised on hymns and Johnny Cash. Chisel's second LP, "Old Believers" is an album of rich, authentic, rock-and-roll, drawing a straight line between the gospel and blues of Cory's youth, and classic rock. http://www.corychisel.com
Shelby Earl- In 2011, Shelby Earl was named by NPR/LA Times critic Ann Powers as her "new favorite songwriter" and her solo debut album, Burn the Boats was named the "#1 2011 Album You Might Have Missed" by Amazon.com. She has since toured with/opened for everyone from Loudon Wainwright III and the White Buffalo to Benjamin Gibbard, Lavender Diamond and Rhett Miller. Earl will release her sophomore album, produced by Damien Jurado, in 2013. http://www.shelbyearl.com
Julia Price - New York native singer/songwriter Julia Price recently moved to LA to star on BRAVO's hit reality series "Miss Advised." The Good Morning America featured artist who was recently invited to perform at The Playboy Mansion in LA has toured nationally for years, is a regular at Austin's SXSW, and has found herself a regular spot at LA's Hotel Cafe, where Ingrid Michaelson, Sara Bareilles, and Meiko all launched their careers. Her self-released EP, "Stories Between the Avenues" charted in the top 50 releases on the iTunes pop category. http://www.juliapricemusic.com