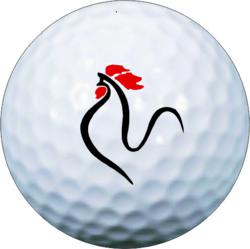 The durability, that's probably the thing I like the most. I was probably going through five or six balls a round with the other one this ball holds up through the round better. Scott Stallings
(PRWEB) March 01, 2013
The 2013 Pro V1x has been tested and validated by golfers at every level of the game - including the world's best tour professionals, PGA professionals and amateur golfers of all swing speeds - to resounding positive feedback and success. The new Pro V1x offers longer distance due to lower driver and long game spin, and a shallower angle of descent that produces more roll. It also maintains its outstanding drop-and-stop control, providing all golfers with the proven short-game scoring performance that contributes to shooting lower scores.
The new Pro V1x delivers even more distance with a lower, more consistent ball flight along with the same improved Urethane Elastomer cover and paint system that makes it even longer lasting. A four-piece multi-component design, the Pro V1x utilizes a new, very soft ZG process center within its dual core to maintain lower driver spin for exceptional distance while increasing iron spin for control into the green. The Pro V1x also produces a slightly different launch condition than the prior generation model, and will fly a little bit lower with a tight ball flight, yet still maintain a deep downrange peak trajectory. Players like that the Pro V1x flies higher than a Pro V1 golf ball, yet they notice and appreciate that its new flight is in their preferred launch window. With a responsive ionomeric casing layer and spherically-tiled 328 tetrahedral dimple design, the new Pro V1x continues to provide a penetrating ball flight that cuts through the wind along with low long game spin and outstanding drop-and-stop short-game scoring performance.
Prior to its official launch in the marketplace, the new Titleist Pro V1x golf ball underwent rigorous machine and player testing. More than 45,000 golfers around the world participated in the R&D testing process, with each golfer receiving new Pro V1x prototype golf balls and having the opportunity to report their feedback through Team Titleist.
"The Pro V1x have always been one of our biggest sellers," said Francis St-Gelais, President of PromoGolfBall.com. "So when Titleist says these new balls are the best they've ever made, that translates into better performance for our customers."
PromoGolfBall.com recommends customizing your new Titleist Pro V1x with a personal message or with your corporate logo. PromoGolfBall.com offers the fastest turnaround for personalized golf balls in the industry and can have your new Titleist Pro V1xs printed and shipped to you within two to five days.
About http://www.PromoGolfBall.com
PromoGolfBall specializes in colour spot and process golf ball printing. PromoGolfBall started its operations in 2005 and quickly positioned itself as a specialist when it comes to custom logo golf balls. The company is committed to offering the best imprint quality you will find in the golf ball industry. PromoGolfBall doesn't print on pencils, coffee cups or any other promotional items it prints strictly on golf balls using a leading-edge precision pad printer and digital printer. With thousands of golf balls in stock and ready to be imprinted, fast turnaround is also available for last-minute orders. In addition, customers have the chance to add the rush order option to their purchase, which guarantees that the order will be processed and ready to ship within 2 business days. Another aspect that contributes to this quick turnaround time is the fact that all the printing is done in PromoGolfBall's own factory. It is not contracted to a third party nor is it done by golf ball manufacturers. This gives PromoGolfBall the ability to have total control over the production process.