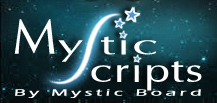 NJ (PRWEB) March 04, 2013
MysticScripts.com is one of the leading online horoscope and astrology related websites that offers free advice and free compatibility tests for all its visitors. The website has interesting content on a host of horoscope and astrology related topics including Numerology, Tarot, Psychic, Angel, Biorhythm, Compatibility, Dreams, Gemology, Feng Shui, I Ching, Oracle and many more. Recently, the popular website released its online numerology compatibility, and name compatibility calculators, which can be used by all the visitors and widgets for webmasters.
A large section of people from every society of the world firmly believe, and follow horoscope, astrology, as well as similar sciences. They are often in the search of a good resource that can give them precise data corresponding to their interests. Looking at the demand, MysticScripts.com started offering free services, and within no time, they have become one of the leading websites providing latest updates on astrology and horoscope-related topics. Recently, the astrology-related website released free numerology compatibility test found at http://www.mysticscripts.com/compatibility/numerology-compatibility/, and name compatibility analysis.
Different kinds of compatibility tests that include numbers have always been popular with people from all classes and societies. The newly-released numerology compatibility elaborates the kind of vibrations that exist between two individuals.
Talking about the kind of numerology tests and their significance, founder of the website said - "The most commonly used numerology system is the Pythagorean system of numerology. This kind of test helps a person to decide whether his partner is the right one for him/her. Numerology compatibility gives an insight to any relationship and helps analyze the similarity and differences between couples. This also aids a person to make one of the most important decisions of his/ her life."
Another release by MysticScripts.com, the free online name compatibility calculator at http://www.mysticscripts.com/compatibility/name-compatibility/ focuses on the divination methods that determine compatibility level between two individuals based on their names. This calculator is purely based on one of the most ancient forms of numerology. As per the science of numerology, each and every number rules the nature of different individuals and such advanced calculators try to map the traits of two individuals in question.
Elaborating more on the science of Numerology, the founder of the website said - "Name compatibility Calculator is based on an ancient form of numerology. Numerology believes that each number rules the humans' nature. The name, birthplace and date of birth are used for the calculations and predictions. It is strongly believed that the entire universe is composed of mathematical patterns and everything can be expressed in numeric form."
Apart from these two new releases, the website has also released free romantic compatibility which can be checked at http://www.mysticscripts.com/astrology/love-astrology/romantic-compatibility/ and zodiac compatibility test at http://www.mysticscripts.com/compatibility/zodiac-compatibility/. The website also has great collection of articles on a wide range of topics ranging from Feng Shui, I Ching to Oracle, down to Palmistry, and more.
About the Company
MysticScripts.com is a popular website about astrology, horoscope and similar sciences. The website attracts many visitors from across the world that follow the science of astrology, numerology, Feng Shui, Palmistry, Chakras, Tarot, and other related topics. MysticScripts.com offers website owners free solutions like astrology widgets for their own websites.
To know more about their service visit their official website http://www.mysticscripts.com/