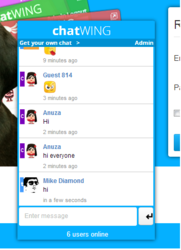 Boston, MA (PRWEB) March 07, 2013
Chatwing Development Team reached out to Facebook marketers with the launch of its newest chat software. The goal of this expansion is to help Facebook marketers gain market advantage and communication leverage. The chatbox focuses heavily on customization, user accessibility, connectivity, and admin functions.
The Chatwing chat box has numerous color schemes that can be accessed by admins and website owners. These schemes can be interchanged and modified as often as possible. Chatwing's developers have also observed that registered users tend to change the colors every now and then, depending on website activity. Sizes can also be changed, along with some parameters such as word filters and allowable login methods.
With the global connection ensured by Chatwing shoutbox, Facebook marketers can use it to showcase their products, services, or even advocacies. Currently, the chatroom allows wide social media login options, like Facebook, Twitter, Google, and Yahoo. Now, visitors will have more chances of network expansion. The chatroom can also accommodate thousands of visitors anytime, so the potential for Facebook marketing campaigns is high.
Chatwing's website chat tool may be simple, but it is gathering hundreds of feedbacks on a regular basis. The company has also noted that avid Facebook gamers are using the shoutbox to find more gaming buddies and in-game leverages. To further help these web users gain communication advantage, Chatwing.com and its developers will push for more platform upgrades within the later months of 2013.
About Chatwing.com
Chatwing.com specializes in the new field of website chat. Over years, the development team has introduced live chat widget for hundreds and thousands of blogs. The application bridges people from many parts of the world, creating global synergy through the Internet. The shout box can be installed in just seconds, and it can be used for varying purposes such as leisure and Internet marketing. It also allows a user to customize the size, color, and name of the widget.