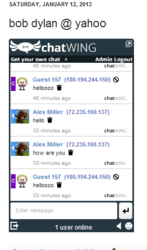 New York, NY (PRWEB) March 08, 2013
With Chatwing's developers and researchers focused on expanding to online niches, the company's chat widget success reached PC gaming communities. To back up the introduction of the chat app, the company's developers conversed with many PC gaming strategists and reviewers. The PC gaming chat tool created by the company focused on enhanced communication level and wide-scale customization features.
The Chatwing chatbox can be installed in just seconds, and users don't need confirmation links to finish setup. After that, the account dashboard becomes available and users can now design chat boxes from scratch. There are multiple color schemes to choose from, along with background images, font styles, and sizes. For PC strategists with websites, this can be an opportunity to create a strong subscriber base. Background image upload is also available. Currently, only image links are allowed, but the developers will add a direct file upload system.
Game reviewers can also use the Chatwing chat box to find more information and updates about the games they want to review. Visitors of the chatroom can provide this information and Chatwing chatroom even extends the connectivity with its social media login option. Facebook and Twitter users can log in and start making friends. Google and Yahoo users can also log in with their accounts.
With a universal website chat tool, PC gaming strategists and reviewers can gather vital information and communicate with other web users. Aside from that, they can now share their tips and gaming experiences in various communities.
About Chatwing.com
Chatwing.com specializes in the new field of website chat. Over years, the Chatwing team has introduced live chat widget for hundreds and thousands of blogs. The Chatwing application bridges people from many parts of the world, creating global synergy through the Internet. The shout box can be installed in just seconds, and it can be used for varying purposes such as leisure and Internet marketing. It also allows a user to customize the size, color, and name of the widget. Chatwing is 100% free for everyone.