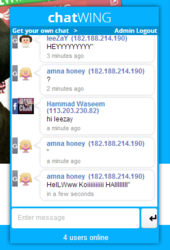 Seattle, WA (PRWEB) March 09, 2013
Desktop theme designs are now becoming more popular than ever because of the Internet's speed of information relay. Seeing the potential of desktop theme niche, the Chatwing Development Team launched a dynamic chat widget with a specific purpose: enhancement of global chat experience. The chat tool is optimized specifically for desktop theme designers and the purpose of spreading tutorials.
The research of the Chatwing Development Team states that web users like desktop themes because of their appearances and certain functions. This gave way to the prominence of desktop theme creators. The chat box offered by Chatwing.com has many useful features that can be used by desktop theme designers. In a way, the shoutbox can be used as a professional online marketing tool.
The Chatwing chatbox also has many color schemes to tinker with. The colors can be adjusted, along with sizes, background images, and other chatroom parameters. MP3 upload is also allowed so that users can determine the mood of the chatroom. Social media is also an integration brought by Chatwing's shoutbox. With this, desktop theme designers can now market their creations effectively. Visitors can join the creators' social pages and start sharing their feedbacks and suggestions.
To ensure the success run of the Chatwing platform, the company will create new strategies that can cover many niches as much as possible. With many niches covered, the Chatwing Team will be able to help more web users experience a new form of website chat. Updates about the Chatwing chat tool will be posted in its official Facebook page.
About Chatwing.com
Chatwing.com specializes in the new field of website chat. Over years, the Chatwing team has introduced live chat widget for hundreds and thousands of blogs. The Chatwing application bridges people from many parts of the world, creating global synergy through the Internet. The shout box can be installed in just seconds, and it can be used for varying purposes such as leisure and Internet marketing. It also allows a user to customize the size, color, and name of the widget. Chatwing is 100% free for everyone.