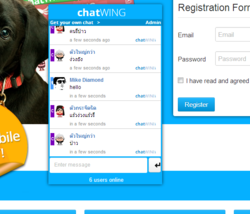 Dallas, TX (PRWEB) March 11, 2013
Chatwing.com, a leading provider of chat applications and widgets, has recently launched a chat widget for avid movie reviewers. The simple chat tool focuses on connectivity and the importance of movie discussions and reviews. The chat app empowers professionalism with its reliable features: global connection, social media setup, high level of customization, and easy installation process.
Installation of the Chatwing chat box allows users to set up a chatting lounge that can be used by visitors for conversations. Movie reviewers can use the chat app to get latest information about the hottest movies, current events, movie comparisons, and many more. Chatwing's developers also focused on the platform's degree of customization. Registered users now have access to different color schemes and shoutbox sizes. Aside from colors, background images can also be added to the chatbox.
Movie reviewers with blogs and websites can also use the Chatwing shoutbox for generating online visibility. According to the company's developers, the shoutbox can ensure up to 80% traffic rate improvement in just a week of continuous usage. Chatwing's social media integration feature contributes highly to this standard. Up to four social media login options are allowed: Facebook, Twitter, Google, and Yahoo. The shoutbox owner can always determine if visitors can gain access to all four options.
Within 2013, the Chatwing Development Team is planning to expand in more online niches. In this way, more web users will be able to have a new website chat experience, along with the chance of increased online visibility.
About Chatwing.com
Chatwing.com specializes in the new field of website chat. Over years, the Chatwing team has introduced live chat widget for hundreds and thousands of blogs. The Chatwing application bridges people from many parts of the world, creating global synergy through the Internet. The shout box can be installed in just seconds, and it can be used for varying purposes such as leisure and Internet marketing. It also allows a user to customize the size, color, and name of the widget. Chatwing is 100% free for everyone.