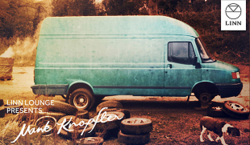 (PRWEB UK) 2 March 2013
The event takes attendees on a musical journey uncovering the fascinating story from humble roots to global success as an inspirational solo artist and Dire Straits front man.
Chris Brooks Audio will be playing Knopfler's latest album 'Privateering' in Studio Master - the highest quality download available anywhere, letting attendees hear the music exactly as it was recorded.
Hailed as one of the world's greatest guitarists, Knopfler considers himself foremost a songwriter and there's a stunningly eclectic selection of tracks on his latest double side album – with everything from Celtic folk and sea shanty pipes to electric blues and dreamy Americana.
Linn Lounge events give the chance to listen to iconic artists on a Linn system while learning all about their life, loves and inspirations.
There'll be Linn staff on hand to answer any questions and a selection of tasty snacks and drinks for refreshment. Additionally attendees will get the chance to listen to some of their favourite music on a Linn system.
Whether it's the latest Studio Master download, a track from Spotify or even a movie, Linn systems get the best sound from anything listened to at home.
What is Studio Master?
Studio Master is the highest quality music download available anywhere, letting listeners hear a recording exactly as the artist intended.
About Chris Brooks Audio
Chris Brooks Audio is a multimedia solutions innovator providing technologies for processing, managing and distributing high quality video and audio allowing seamless control, conversion, and connectivity between many classes and sizes of digital entertainment devices.
Chris Brooks Audio supplies equipment from the world's top manufacturers of Digital TVs, HD Audio players and control systems. Their headquarters are in Warrington UK, they provide services in the UK and internationally. Demonstration facilities are available.
For more information visit http://www.chrisbrooksaudio.com
To book for the event R.S.V.P Tel: 01925-261212 or email catherinet(at)chrisbrooksaudio(dot)com