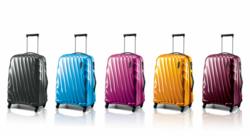 Kent (PRWEB UK) 1 March 2013
The Dune is an attractive hard sided suitcase which is manufactured by Carlton. Bringing a 10% discount to this range should really be an attractive saving for customers.
The Dune's creative ribbed design on the frame is one of the innovative ideas of this case that makes it quite strong. The Nanolite components bring the needed assurance that this case is no only light but also quite strong. Its high impact resistant polycarbonate body provides peace of mind that this case should be well braced against airline handling.
The inside of the case is fully lined and has a separation on the lid to keep personal belongings organised and set apart from the main section of the case. There is a designated pouch for keeping dirty laundry or even shoes away from clean clothing.
Nick Steadman, Managing Director of Luggage Superstore says that "The Dune range is such an appealing design for anyone travelling. The colours available make them attractive to both male and female and hence make it a good all-rounder case."
This is one of Carlton's ranges that is equipped with a TSA combination lock for international travelling.
Luggage Superstore's established site is in West Kingsdown, Kent. Their aim is providing competitive prices of the highest quality luggage and top calibre Customer Service for online luggage shopping. Luggage Superstore recommends Samsonite Suitcases.
Trina Chee-a-kwai
Luggage Superstore
01474854666
Email Information