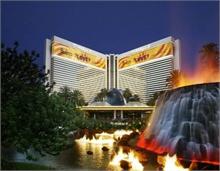 IIUSA's vision for this year's event is to strengthen the global network of EB-5 industry professionals, enabling effective action towards ensuring the permanence of the EB-5 Program." --Peter D. Joseph, IIUSA Executive Director
Las Vegas, NV (PRWEB) March 01, 2013
IIUSA is proud to announce its 3rd Annual EB-5 International Investment and Economic Development Forum, taking place this year in beautiful Las Vegas, NV, known as an international hub for major industry conferences and world-class entertainment. IIUSA is honored to host this large, transnational networking event, welcoming EB-5 industry-leading professionals from all around the globe. This is a prime opportunity to showcase your organization, development powerful business relationships, learn from experts on trending topics, and see old friends. Participants will engage with EB-5 stakeholders and develop important connections with top-notch industry professionals including: Attorneys, EB-5 Regional Center Principals, Foreign Migration Advisors, Entrepreneurs, Escrow-Investment-Private Bankers, Accountants, Economic Development Advisors, Financial Advisors, and many others.
"I look forward to personally welcoming our global industry to this year's Forum," said Peter D. Joseph, IIUSA Executive Director. "Dynamic events such as these catalyze progressive reform and development, further enabling the success of the rapidly growing EB-5 industry. IIUSA's vision for this year's event is to strengthen the global network of EB-5 industry professionals, enabling effective action towards ensuring the permanence of the EB-5 Program."
IIUSA is pleased to announce the following distinguished sponsors/exhibitors for this year's event: NES Financial, Wright Johnson, Fragomen, Woodfield Fund Administration, Green Card Fund: Arizonal EB-5 Regional Center, Impact Data Source, EB-5 Global, Strasburger Attorneys at Law, with more to be announced. Attendees should expect another cutting-edge event from IIUSA, burgeoning with the energy of industry development, education, and networking. IIUSA takes pride in delivering the highest quality industry information/analysis from an interdisciplinary set of expert speakers from across sectors. Over 325 EB-5 Regional Center industry stakeholders, from all corners of the globe, attended last year's sold-out Forum, and we are anticipating another successful year.
For more information about this exciting event and to register online, please click on this link.