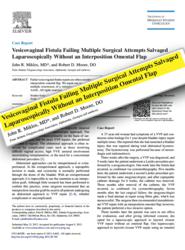 Atlanta, GA (PRWEB) March 05, 2013
Dr. John R. Miklos and Dr. Robert D. Moore of International Urogynecology Associates of Atlanta and Beverly Hills are experts in Vesicovaginal Fistula (VVF) Repairs and have been operating on patients with vesicovaginal and vesicouterine fistulas since 1997. In addition to repairing bladder fistulas, they are experts in correcting failed fistula repairs laparoscopically. Complicated fistulas are often treated with interposition omental flaps; however, failed flap repairs have not been described without the use of another interposition flap. This is the first paper published defying conventional wisdom that suggests vascular interposition flaps are helpful in the treatment of all patients with VVF. The full text of this abstract appears in The Journal of Minimally Invasive Gynecology, November-December 2012.
Literature suggests that an omental interposition flap during VVF repair will increase the chance of surgical cure. However, there is no level one evidence confirming the need for an interposition flap during VVF repair.
In this case study, the doctors report on a patient with a history of cystotomy repair at the time of a hysterectomy who failed a laparotomy approach to a VVF repair using an omental flap. The subsequent successful repair was performed using a laparoscopic approach using a layered closure technique without an interposition omental flap. The patient, a 52-year-old female, suffered from a bladder fistula and continuous urine leakage for five months prior to her surgery. The patient consented to a laparoscopic approach to a fistula repair. The patient was taken to surgery, and with meticulous dissection and mobilization of the vagina and bladder fistula tract, a multilayer closure of the excised fistula tract was successfully performed.
Drs. Miklos and Moore adhere to a double-layer bladder closure theory (Sokol et al 2009) that suggests it is superior to a single-layer closure and may prevent a fistula. The authors do not believe that an abdominal interposition graft is necessary in most cases of VVF if one adheres to the meticulous dissection and closure technique. Omental flaps are not the panacea for all irradiated VVF repairs; if it were, this patient would not have undergone a second VVF repair. According to Drs. Miklos and Moore the patient had an excellent recovery and two years after her laparoscopic repair she remains content and without a VVF.