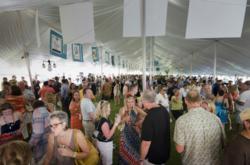 We knew right away that Rodriguez was the perfect musician to anchor our fifth annual festival, and we've been so happy to watch the world discover him.
Traverse City, MI (PRWEB) March 05, 2013
Folk musician Sixto Diaz Rodriguez, whose life story was told in the Oscar-winning documentary "Searching for Sugar Man," will be the star performer at the 2013 Traverse City Wine & Arts Festival on June 22.
"We've already sold more advance tickets than we did last year, especially after 'Sugar Man" took best documentary at the Oscars," said festival organizer Andrew McFarlane. "People need to get their tickets now, because this is going to be a sellout."
Now in its fifth year, the popular celebration of "wine, culture & cuisine" features tastings & full glass pours from 30 of the region's best wineries, paired with food created by local chefs, artworks by local painters, potters, weavers and other artists, and a diverse slate of musical performers.
Over 4,000 people attended the 2012 festival, which takes place at one of Traverse City's most scenic venues: the wide tree-shaded lawn of the Village at Grand Traverse Commons – a former mental asylum whose tawny castle-like buildings have become a hub of Traverse City's bustling culinary scene.
Rodriguez, a Detroit-born singer-songwriter, released two albums in the early 1970s and then faded into near obscurity, earning his living as a construction worker and manual laborer until it was discovered that his music had achieved cult status in South Africa. The story of how two of his fans searched and eventually found him is the subject of "Searching for Sugar Man," which was the opening film at the 2012 Traverse City Film Festival.
"When Rodriguez came to Traverse City last summer, there weren't a whole lot of people talking about him," explained festival director Laura Herd. "We knew right away that Rodriguez was the perfect musician to anchor our fifth annual festival, and we've been so happy to watch the world discover him."
Rodriguez will be joined by The Crane Wives, an indie-folk band from Grand Rapids, the Ben Daniels Band of Chelsea, and Blake Elliott and the Robinson Affair from Traverse City.
Another new feature in this year's festival will be an exclusive Friday evening "winemakers party," where attendees get to try some of the area's best wines while chatting with the winemakers who created them.
Over the past decade, Traverse City has acquired a sudden reputation for its fresh, imaginative cuisine and its excellent wines. In recent years the region has been attracting and retaining a great many talented young chefs. Some are recent arrivals, and an impressive number are graduates of Traverse City's own Great Lakes Culinary Institute. Recently, superstar chef Mario Batali touted Traverse City in Bon Appetit, calling the area a "modern gastro-paradise."
But the original spark was undoubtedly provided by the area's thriving wine industry. Traverse City's wines have become world contenders, outscoring California and even European labels in major international competitions for their clear, fresh taste. Notable for Rieslings, Chardonnays and Pinot Grigios, Traverse City area vintners are even receiving high praise for their red wines.
Traverse City's wine country is located on two long peninsulas – Leelanau and Old Mission -- that extend out into Lake Michigan, each with its own AVA designation and growers' association. It was the Leelanau Peninsula Vintners Association that first saw the potential of a festival to showcase local wines and foods. This year's festival is the culmination of that vision, said Matt Gregory, president of the Leelanau Wine Trail.
"It's the mission of the Traverse City Wine & Art Festival to bring rare and wonderful performances," said Gregory. "Offering our fans the chance to see a budding superstar like Rodriguez on the big stage in a beautiful outdoor setting here in Northern Michigan is exactly why we created the festival."
Tickets, packages and information about the entire weekend's activities including the new Friday night Winemakers Party are available at http://www.traversecitywinefestival.com.