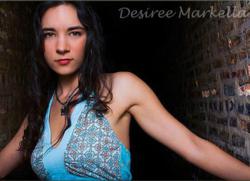 "Rumor has it in the acting community, Atlanta may become the new Hollywood of the South."
New York, NY (PRWEB) March 06, 2013
Movie producers started the Hollywood exodus years ago, but most TV productions stayed put in their Los Angeles homes. Not so anymore. Per a recent article in the LA Times, just two of the 23 fall and midseason shows were shot in LA. Hour-long dramas are fleeing fastest as cost-conscious producers seek tax incentives in states like North Carolina and Georgia. In fact, fewer than 10 percent of this season's network dramas are based in LA, down from 50 percent in 2010 and 80 percent in 2005.
All of this is causing up-and-coming actors to question whether they can pursue their Hollywood dreams in Hollywood. "Atlanta is bustling right now," says eTalentShowcase.com member Desiree Markella. "Rumor has it in the acting community, it may become the new Hollywood of the South." The South Carolina native says she flew to New York last summer for an acting workshop where, "There was this Q&A with a NY agent," she says "and one of the questions asked was, 'With Atlanta getting more and more work, do you have any connections there?' A NYC actor was concerned about work they were missing in Atlanta!"
Having recently wrapped "Killing Winston Jones," a film starring Danny Glover and Richard Dreyfuss that was produced in Savannah, Markella decided the best career shift she could make was a move to Georgia. "I feel like it offers great opportunities with less competition—at least for now. I'm sure more actors will be moving to Atlanta in the years to come as long as the tax incentives stay in place for the industry to thrive here."
Staying on trend and being able to exchange the latest thinking with fellow actors, that's just one of the many benefits of being eTalentShowcase.com members, says Ed Olimpio, vice president of marketing. "This talent site is so much more than just a place to showcase your skills," he says. "It's also a haven where you can connect, get advice and share must-know information like this," he says. "Membership is free and our jobs board is a great place to look for work. I would advise any emerging musician, Comedian, actor or model to take advantage of this robust resource."
About eTalentShowcase.com
eTalentShowcase.com is a social media site that provides artists and entertainment industry professionals with powerful, intuitive tools to connect, promote and prosper online. The site offers job listings, free profiles, original content, contests and a base of active, engaged fans. eTalentShowcase, Where Talent Gets Discovered.